Senator Amy Klobuchar honored with Goodwill's Policymaker Award
The award recognizes a federal lawmaker who has clearly demonstrated support for Goodwill's public policy priorities.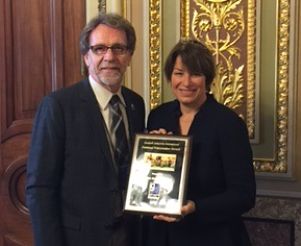 Michael Wirth-Davis and Amy Klobuchar
Goodwill Industries International honored Minnesota Senator Amy Klobuchar as a recipient of its Goodwill Policymaker Award for 2016.

Senator Klobuchar was nominated by Goodwill-Easter Seals Minnesota for her commitment to the nonprofit sector. Having a bi-partisan energy efficiency bill that works to help nonprofits save money through energy efficiency, Senator Klobuchar is a champion for the nonprofit sector. She led the Nonprofit Energy Efficiency Act, which would provide $10 million each year for the next five years to create a pilot grant program at the U.S. Department of Energy to help nonprofits make their buildings more energy efficient.
"The senator and her staff have consistently shown a willingness to discuss workforce issues impacting the populations that Goodwill serves," said Michael Wirth-Davis, president and CEO of Goodwill-Easter Seals Minnesota. "By supporting legislation that impacts the bottom line and creates cost-savings for nonprofits, she enables Goodwill to continue to help the people it serves and strengthen the community. We're pleased to see Goodwill honor the efforts of Sen. Klobuchar."
The award was presented on Tuesday, April 12 during a reception in Washington, DC, as part of Goodwill's annual advocacy event.