Kevin's Pride Shines at Cub Foods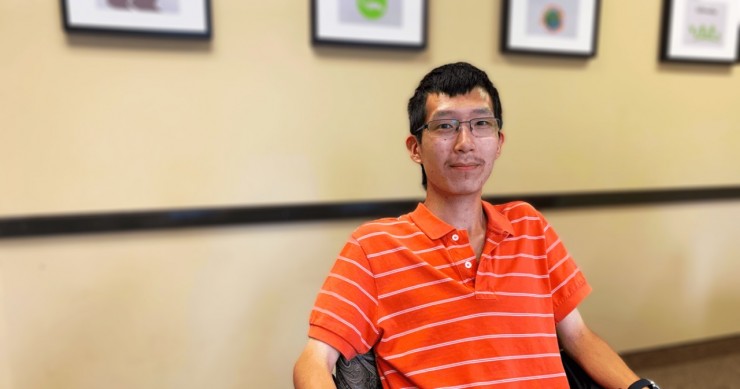 Kevin cares about working hard and doing things well.
He is a six-year employee of Cub Foods in Eagan and has taken only two sick days. At Cub Foods, he is part of the clean team, responsible for cleaning restrooms, rearranging carts and other duties to keep the store looking great.
"After Kevin graduated from high school, he stayed in the school district with Transition Plus," his mother, Kathryn explains. Transition Plus provides services to students with educational disabilities and transition needs in post-secondary education and training, employment and independent living to promote a successful transition from high school to adult life.
"He was bringing questions into class and working with teachers to refine his interview skills," she continues. "They realized that he had the ambition to work so I started looking into resources for him."
Kevin participated in Goodwill-Easter Seals Minnesota's retail training program, where he learned about working in a professional environment. While Kevin was in training, he was assigned a job coach who helped him start filling out job applications.
"My career navigator went with me to interview at Cub and helped me prepare ahead of time," Kevin says. Ultimately, he landed the job and never looked back!
"I enjoy my job a lot," he says with a smile. "I care about doing it right."
Six years later, Kevin continues to work with Nancy Madich, a career navigator at GESMN.
"Nancy has been unbelievable," Kathryn says. "Kevin does a great job on his own at work, but he still really benefits greatly from having a Goodwill coach to navigate all the little things that are tricky for a lot of people, like requesting PTO or understanding the union paperwork. We contact Nancy and she answers questions right away, which we're very thankful for."
His career support specialist and mother are not the only two praising Kevin for his fantastic work.
"Kevin's supervisors at Cub tell me that he is conscientious and makes sure the work gets done right the first time," Nancy says. "If he gets feedback that he should do something differently, he changes right away, and no one ever has to come back with the same critique."
Kevin's mother says she often has friends and neighbors who see him at Cub and tell her that he's always working hard with a smile on his face.
"My favorite part is seeing familiar faces come into the store," Kevin explains. "And when I get to be outside!"
After six years at Cub Foods, Kevin says he still looks forward to going to work and encourages others to find something they enjoy.
"Find a job that works for you and your skills and that you truly want to have until retirement," Kevin says. "Don't give up on doing what you love to do."
To explore our services and programs, visit gesmn.org/services.