Meet Mike – a Goodwill-Easter Seals volunteer mentor
"Begrudgingly I agreed to take my dad to the airport at 4:30 a.m."
That was the start of Mike's becoming a volunteer mentor for Goodwill-Easter Seals Minnesota more than two years ago. On the drive home from the airport the person talking on the radio happened to be the mentoring coordinator from Goodwill-Easter Seals. They were talking about a program that helped fathers coming out of incarceration work their way back into society. The program needed mentors. As a father himself, he understood at least some of the challenges they faced, and he wanted to help.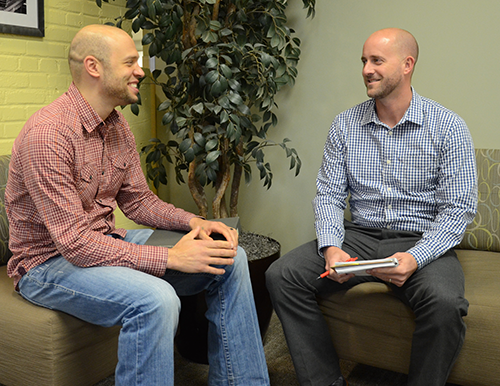 "I had an epiphany" he says. "This is something I should do."
Two weeks later he was meeting for lunch with the Goodwill-Easter Seals mentoring coordinator and filling out the paperwork needed to become a mentor. After some training and a group meeting he was paired with his first mentee.
The mentor program Mike is currently involved with is funded through the Department of Labor. It is designed to work with participants who are transitioning out of corrections into a work-release program that uses employment, training and mentoring services from Goodwill-Easter Seals.
Over the span of a couple years Mike has become aware of how difficult it is for someone coming out of incarceration to reintegrate back into society.
"My eyes were opened to a world that people don't really talk about. There are people trying their hardest to get back to a normal way of life, but every single direction they turn there's somebody telling them they can't do that, or 'you're not allowed' . . . or 'sorry, you have a felony.'"
Mike was also surprised that he has much in common with the participants he's worked with, in particular his current mentee. "The only difference is he made some bad decisions – which he owns – but then your life goes down a different path."
His mentor role takes a few hours of time a month, sometimes less. Despite being a busy dad and having a full-time job, he considers the time commitment very manageable. Mike feels strongly that being a volunteer mentor has been a rewarding experience, and he encourages others to do the same. "If you care about people and can spare four hours a month, then do it."
Watch Mike tell his story.