Goodwill-Easter Seals making big plans for National Volunteer Week
April 12 marks the beginning of National Volunteer Week. The purpose of this week is to honor the people who dedicate themselves to taking action and solving problems in their communities. Established in 1974, National Volunteer Week has grown exponentially in scope each year, drawing the support and endorsement of all subsequent U.S. presidents, as well as many governors, mayors and elected officials.
At Goodwill-Easter Seals Minnesota, the Volunteer Services Department will be using National Volunteer Week as a time to recognize volunteers, interns and AmeriCorps and VISTA Members that share their time and talent with us. We will also be highlighting the various aspects of our volunteer program with hopes of recruiting new volunteers.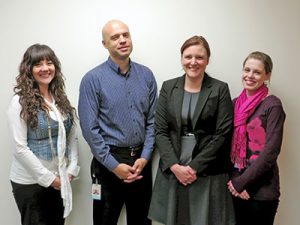 Goodwill-Easter Seals offers many wonderful opportunities to become engaged with our organization, the people we serve and the community in which you live. Our opportunities fit a variety of skill sets, interests and schedules. We offer the chance to volunteer by yourself, with friends or with a group from work. We also have internships and AmeriCorps positions.
Here are some of the volunteer opportunities you can be part of:
Help with mock interviews (a great chance to volunteer as a team)
Assist with GED tutoring
Mentor program participants
Help in one of our retail stores
Host a donation drive in your community or at work
Be a tutor in our computer labs
For more information on ways to become involved, learn more.

As the Director of Volunteer Services at Goodwill-Easter Seals, I have had the privilege of overseeing the volunteer program for the last six years. I have observed firsthand the value that volunteers bring to our organization and the ways in which they help to further our mission to eliminate barriers to work and independence. There are many ways in which volunteers can take part in this mission and help our participants move forward toward their goals. You will learn about more of those opportunities throughout this week.
We look forward to hearing from you. Together, we prepare people for work!
Mock Interview Training
Want to help with Mock Interviewing? Please come to our next Mock Interview Training. The agenda includes a more in-depth look at what it means to be a Goodwill-Easter Seals participant, how to give constructive feedback and encouragement, interviewing specifics and more. After this training, we will share in the success of participants that we serve by attending a graduation.
Friday, April 17
9 a.m. – noon
Goodwill-Easter Seals Main Office
553 Fairview Ave N
St. Paul MN 55104
To RSVP, please email Sara Triplett, Volunteer Coordinator, or call her directly at 651-379-5824.