Training Program Helps Mary Discover Inner Strength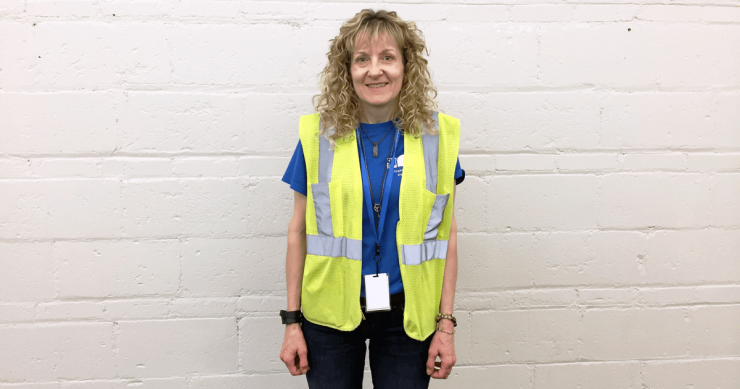 Mary is a single mother of three. Eight years ago, she took a medical leave of absence from her role as a legal secretary to care for herself and her ailing father. Mary's father was in the late stages of Alzheimer's and she struggles with PTSD and depression. During this time, Mary poured all of her energy into her family, while doing her best to also take care of herself and her children.
"There is so much stigma about mental health issues," Mary says. "I was ashamed for so long and afraid to ask for help."
After not working for several years due to recurring mental health issues, Mary was referred to Goodwill-Easter Seals Minnesota for employment development services and paired with Dale Lamb, a senior transitional employment specialist.
"When I first met Dale, I was too scared to take a risk and join the transitional employment program," she recalls. "It wasn't until a year later I finally felt ready and applied."
In October of 2018, she began working at the Goodwill St. Paul Outlet. Mary continues to experience some of her mental health issues, but despite these struggles, she has perfect attendance at work. And Mary adapted quickly to the differences between working in an office and working in a warehouse.
As a result of Mary's strong job performance, the Goodwill outlet manager transitioned her into a permanent material handler position.
"I am thankful to Goodwill for giving me a second chance at employment," she says. "It was scary starting a new challenge, but I have learned I'm stronger than I thought."
According to the U.S. Department of Health and Human Services, one in five adults struggle with mental health. Many go through it alone, without proper support, and keeping employment is a struggle. For people who do seek assistance, it takes immense courage to ask for help.
GESMN's transitional employment program offers people with disabilities and other barriers to employment an opportunity to learn through hands-on, paid work experiences at real jobs. GESMN has been helping people like Mary overcome her mental health barriers to experience the power of work for 100 years and looks forward to another 100 years of service.