The value of volunteering
A note from the president.
At Goodwill-Easter Seals Minnesota, our mission is to eliminate barriers to work and independence.
What it takes to eliminate those barriers is different for each individual who enters our doors. Fortunately, we have smart, dedicated people who work very hard to ensure that our services and programs are able to create an effective approach for every participant we have.
In fact, in 2015 we provided resources for 85,000 services, eliminating barriers to work and independence for 21,000 people.
One important tool we have for eliminating barriers is our volunteer program. The volunteers that help out in our programs do a tremendous job of helping participants gain the skills they need to succeed at a job, or in getting the job they really want.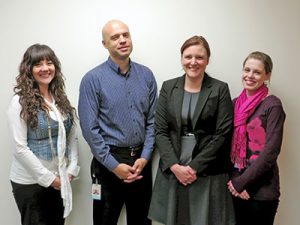 Our Volunteer Services Team: Left to right: Sarah Triplett, John Gibson, Rebecca Bedner and Melissa Brandel. A great example of how our volunteers help our participants is our mock interviewing program. Mock interviewers are volunteers who work with our participants to prepare them for the questions they will face when trying to land a job. It's a way to make sure each of our participants has their best chance to succeed.
Something else that helps us to eliminate barriers for our participants is that we work very hard to maintain the highest possible standards for our organization. To help us maintain those standards, the entire organization goes through strict evaluations.
---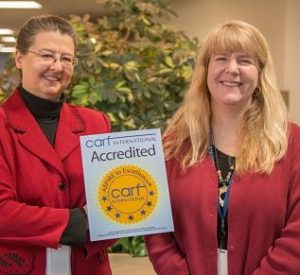 Photo on the left is Linda Fox and Robin Hemenway with our CARF accreditation. Recently we received news that our efforts were recognized by two important nonprofit evaluators. First, we earned another three-year accreditation from the Commission on Accreditation of Rehabilitation Facilities (CARF). It's the highest level of accreditation that CARF gives. Goodwill-Easter Seals has maintained continuous CARF accreditation since 1977. Secondly, we were informed that the Charities Review Council has given us its "Meets All Standards" seal. We're proud that our hard work has been recognized.
In a month, on Thursday, May 12, we'll hold our 10th annual Power of Work fundraising celebration. I hope to see you there as we strive to continue eliminating barriers to work and independence.