VISION:
To use the power of generosity to build a world where everyone experiences the power of work.
MISSION:
To support Goodwill-Easter Seals Minnesota's mission to eliminate barriers to work and independence.
VALUES:
Philanthropy: We believe in the importance of charitable giving and its ability to make a lasting mark upon people and the community.
Donor-focus: We build exceptional partnerships with people and promote inspired giving by providing donors with the options, tools and support they need to make charitable giving easy, personally satisfying and effective.
Stewardship: We invest charitable gifts wisely and distribute them to advance the mission of Goodwill-Easter Seals Minnesota.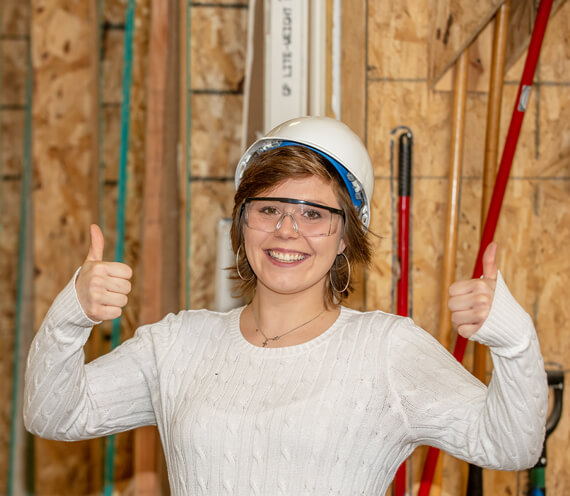 What we do
In 2014, the Goodwill-Easter Seals Foundation was formed to ensure our financial resources grow and keep pace with the increased demand for services. The Foundation is a separate nonprofit that exists for the sole benefit of Goodwill-Easter Seals Minnesota. It offers donors a special opportunity to invest in the future of GESMN and create lasting legacies that will help people become economically self-sufficient.

The Foundation accomplishes its goals by establishing and growing endowment funds, which are invested to provide long-term support for the organization. When the endowment earns interest over time, the earnings can be distributed to fund the services and programs of Goodwill-Easter Seals.
Since the Goodwill-Easter Seals Foundation is a 501(c)(3) organization, contributors can take the maximum deduction for charitable contributions, under IRS regulations.
Help build the bridge
The Goodwill-Easter Seals Foundation is building the bridge to ensure individuals can experience the power of work. We hope you join us. We accept gifts of cash, stocks, property, bequests and other assets in the way that qualifies for the maximum tax advantages, as recognized by law.
Make a gift payable to Goodwill-Easter Seals Foundation
Give an appreciated asset
Name Goodwill-Easter Seals Minnesota in your will
Our team can help you explore your present and long-term giving options, establish a named fund/donations in honor or in memory of friends or loved ones and designate funds that reflect your values and interests.
Contact Director of Philanthropy Shannon Schaaf at 651-379-5888 for information.
We always encourage you to seek advice from a financial advisor when making personal investments.
Our Board Members
Joseph M. Barsky III, MBA, Chair
Chair, Goodwill-Easter Seals Foundation Board of Directors
Ameriprise Financial (retired)
Lisa Manzey Adelmann, MBA, CPA
Past Chair, Goodwill-Easter Seals Minnesota Board of Directors
President, Mazeny McCracken Consulting Services
James S. Anderson, MS, CPCM
Director of Government Contract Compliance, 3M (retired)
John Bergstorm, MBA
Partner, RiverPoint Investments, Inc.
Lauren Beecham Henry
Vice President of Community Marketing, Bremer Bank
Debbie Galka, MBA, Treasurer
Chief Risk Officer, US Bank
Lorraine Hart, MBA, CFA
VP Investments, Ameriprise Financial (retired)
Texas Hemmaplardh, MBA, CFA
Partner, Pavilion, A Mercer Practice
Rachel Lockett, ex-officio
Vice Chair, Goodwill Easter Seals Minnesota Board of Directors
Cheif Information Officer, Pohlad Companies/Marquette Companies
John Schonberg
Chief Investment Officer & Portfolio Manager, Stonebridge Capital Advisors
Michael Vinyon, JD, Secretary
Regional Managing Director, The Wells Fargo Private Bank
Michael Wirth-Davis, DPA, ex-officio
President, Goodwill-Easter Seals Foundation
President & CEO, Goodwill-Easter Seals Minnesota