Adrian gets a GED and skills to support his newborn
Construction is a growing field and skilled workers are in high demand. Goodwill-Easter Seals offers a 12-week, hands-on training course at no cost to students; let us help open doors for you!
Adrian attended our construction training information session in September 2019 and was excited for new skills and employment. Adrian shared with GESMN staff that he didn't have his GED/diploma yet because he dropped out of school to work more after his son was born. The GESMN team suggested he consider YouthBuild, a program for youth without their GED/diploma.
Adrian was excited for the opportunity to pursue multiple goals at once - construction training, employment, and his high school diploma. With determination, Adrian juggled his school and work schedules, while also navigation housing instability, childcare, and limited transportation.
With a baby at home, work, and transportation challenges, it was difficult for Adrian to commute to YouthBuild from the suburbs each day for training. Despite his hectic schedule and work responsibilities, Adrian always showed up to YouthBuild with a smile on his face and a willingness to work hard and learn. Staff say that Adrian is a great example of a come-back story! Despite being close to graduating twice (having dropped out to work and our class being cut short due to COVID), Adrian worked remotely during the summer.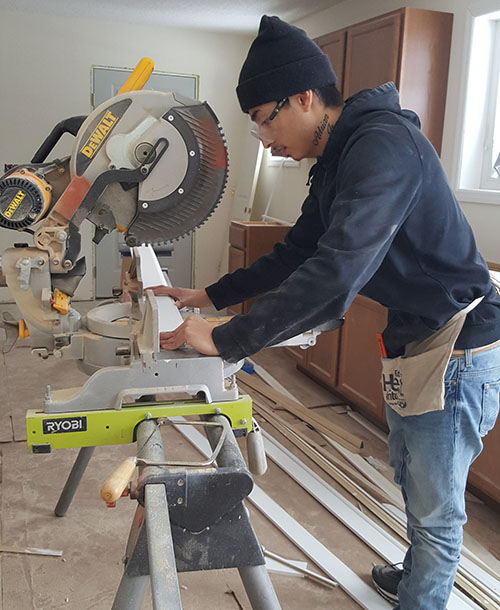 Since graduation from YouthBuild, things are looking up for Adrian! He earned his high school diploma, signed a lease for a new apartment to provide stability for his family and purchased a car with the help of a Minnesota Microgrant. Adrian landed a job at a woodworking/construction company. Adrian is thankful to everyone at Goodwill-Easter Seals Minnesota who helped him gain work and independence.
If you or anyone you know needs career training/education, visit gesmn.org/training for information.