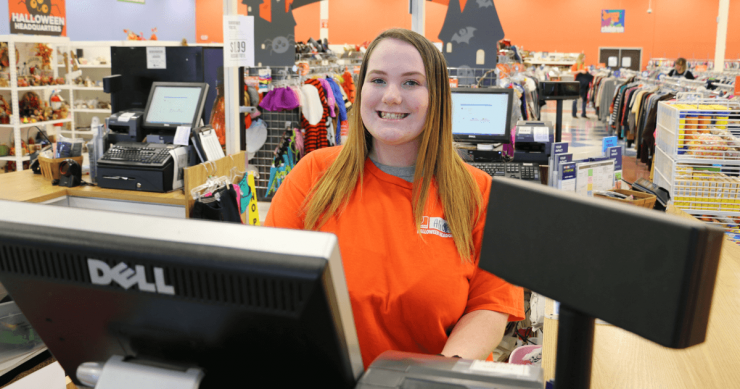 Alicia jump starts her career after high school
When Alicia was attending Fridley High School, a teacher told her about a Goodwill-Easter Seals Minnesota (GESMN) work-based learning program. Students take high school classes half the day and gain work experience at Goodwill in the other half. Not really knowing what to expect, Alicia enrolled in GESMN's program in Spring of 2019.
"The school picks students who they know will benefit from work experience," GESMN Senior Career Navigator Sara Seefeldt explains. "The students are provided transportation to work three-hour shifts at Goodwill stores. They set goals on what they want to get out of the experience and can participate for a semester or even longer, depending on how quickly they accomplish their desired goals."
"The training showed us everything from how to clean, to how to scan books and price items to be sold on the sales floor," Alicia says. "We were taught to do a lot of different jobs and received feedback from the managers that pushed us to be better."
"At first I wasn't the best employee," she says. "I wouldn't show up because I wasn't a morning person and couldn't get there in time. But when I was there, I worked really hard."
Alicia's hard work paid off. After seeing her progress, the Fridley Goodwill store offered her a position when she completed training, graduated from high school and applied for a position as a cashier.
"When the training program ended, I wanted to keep working at Goodwill," Alicia says. "I knew how to do most things in the store and enjoyed my coworkers."
"The store knew pretty early on that they wanted to hire her," Sara says. "Alicia always just got it, but she wasn't confident in her abilities. The rest of us could see that she had great skills and learned quickly. Her teachers recognized the same traits that the Goodwill managers saw and knew her lack of confidence was the only thing holding her back."
"I was really nervous to be a cashier when I first started," Alicia explains. "Now, it's my favorite part of my job!"
"I remember she was also nervous to talk to customers or talk on the intercom," Sara adds with a smile.
"Yes, I was!" Alicia exclaims. "But now I volunteer to talk on the intercom. I even help other new employees who don't like talking."
Alicia acknowledges that without the GESMN training, she wouldn't have been comfortable moving from high school into the workforce.
"The program is a place where students can make mistakes in a safe environment," Sara says. "When they get their first job, they've already learned the soft skills needed to be successful at work."
"Going through the training made me realize that I really need to show up," Alicia says. "I knew if I was actually going to get a job, I needed to be on time and work hard and have my head in the game."
"I learned a lot through Goodwill's training, and I felt ready to start working," Alicia says. "But I think with any job, you just keep learning and experiencing new things the longer you work!"
GESMN currently partners with three school districts in the Twin Cities for work-based learning programs to help people like Alicia experience the power of work. To learn more about this and other job skills programs, visit gesmn.org/services.