Anissa's Second Chance Leads to Success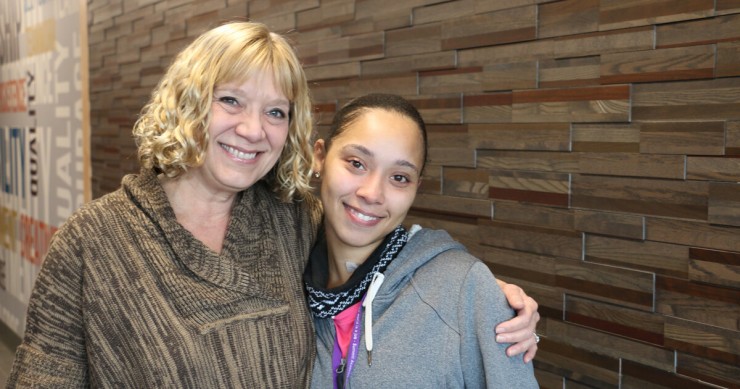 Anissa is a mother of three who has overcome many barriers to get where she is now, and she's still on her journey.
"I served 15 days in prison when I was six months pregnant with my third child," Anissa shares. "And even though it was just a misdemeanor, it haunts me when applying for jobs."
After interviewing for multiple positions with no job offers, Anissa and her son ended up at People Serving People homeless shelter in Minneapolis.
"When I was at People Serving People, a lot of organizations came in with different programs to help us find work and get out of the shelter," she says. "I had to rank the options of programs and someone told me that Goodwill-Easter Seals Minnesota was good, so I marked them as my first option. Once I met Heidi it was an instant connection."
Heidi is a Goodwill-Easter Seals Minnesota (GESMN) career counselor who works with people receiving aid from the Minnesota Family Investment Program (MFIP), the state's support program for low-income families with children.
"I was a single mom on welfare, so I understand the difficulty and the feelings that come with that. I shared that with Anissa, and it helped connect us. I'm not just telling her what to do because I did it myself. I assured her that we could figure this out together," said Heidi.
"I always knew that People Serving People was a steppingstone," Anissa explains. "I didn't get too comfortable there because it's not where I wanted to be for the rest of my life. MFIP is the same way. It should be viewed as a tool to help you get back on your feet."
After working with GESMN, Anissa moved out of state. "When I came back to Minnesota, I reached out to GESMN and I prayed that Heidi would come back into my life," Anissa said.
In 2019, Heidi and Anissa were paired up for a second time. "Heidi has been like a mother to me. I'm so comfortable with her and she is very understanding. She's the mother figure I have always wanted in my life."
"It's been push and pull and there have been times I've been a little strict," Heidi adds with a smile. "There are many rules with MFIP, and I can't just let things go. It is my job to hold her accountable and walk side-by-side with her through her journey."
One of Heidi's strengths is to see the potential in people that they may not see in themselves.
"Heidi called me one day and said she thought that construction training would be good for me," Anissa says with a laugh. "I was like 'what the heck?' but I promised her that I would go and if I passed the admission exams the first time, I'd continue."
"And she passed the first time," Heidi grins.
"I kept my word and started going to classes to learn about construction," Anissa says. "I don't know where I would be in my life if I didn't have this woman. She can push me and for some reason I actually listen!"
In order to find a program that worked best for Anissa, Heidi helped her enroll at Summit Academy OIC in Minneapolis, where her son can attend daycare right on site.
"My goal is to get a union job and work super hard," Anissa says. "I want to get a stabilized home, get my license back and improve my credit. I want to work."
When asked what advice Anissa would give to other people who need a second chance, "It starts with you," she says. "If you don't have the drive to want to be better in your life, your career navigator can do everything possible, but it won't be enough."
"GESMN is going to help you and push you. Sometimes you need that push that believes in you more than you believe in yourself. I thank God that I crossed paths with Heidi and that she stayed with me through the hard times and the good times. I couldn't ask for a better program than Goodwill."