Attitude (and Hard Work) Is Everything
While everyone knows things can change in an instant, Risa knows firsthand how true that sentiment is.
Born in New Jersey to Japanese parents, Risa grew up in both the U.S. and Tokyo. After graduating high school in the U.S. and returning to Japan, she desperately wanted to go to college in the Midwest.
"I always admired the Midwest," Risa says with a smile. "I watched Little House on the Prairie!"
She applied and enrolled at the University of Minnesota-Twin Cities and she and her mom moved from Tokyo to Minnesota.
"During college, since I was an older student, I didn't really get into the atmosphere or care about going to parties, so I started working," Risa explains. "I enjoy being around people, so I worked at the front desk of the Hyatt in downtown Minneapolis. They had many Japanese tourists and they really liked having me there! I finished my degree and paid it off by working at the hotel."
After graduation, Risa landed a great job, a financial analyst at General Mills. Everything was going smoothly, until one day when everything changed.
"I went to work, and I had an incredible headache," she says. "And then I had a stroke. My coworker found me on the ground and called an ambulance."
"I was in a coma for three months," Risa continues. "And then I woke up at Courage Kenny Rehabilitation Institute and was in in-patient care there for another month. I had to relearn to walk and speak properly. Even after I was released, I met with a speech therapist and an occupational therapist for the next two years, three times a week. My last lesson was driving lessons."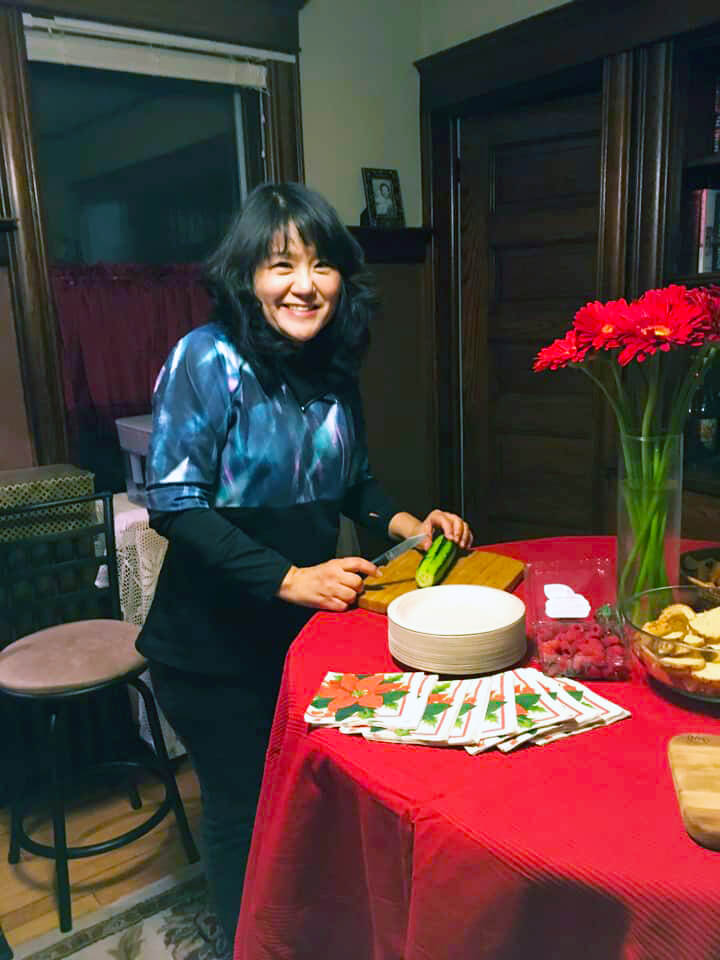 Luckily for Risa, she had family support.
"My mom had just retired when I had my stroke, so I'm so lucky she was able to care for me and drive me to my appointments," Risa says. "I don't think she was expecting to do all that after retirement; she probably wanted to relax!"
Once Risa completed her therapy, she was left wondering what to do for work.
"At first, General Mills took me back as an office assistant. But I couldn't perform well for them in that role," she explains. "Unfortunately, I'm limited to what I can do now so I went to the workforce center."
The workforce center helped Risa get a few temporary filing jobs and a job in a warehouse for a major online retailer, none of which were a great fit.
During this period of job uncertainty, Risa came to Goodwill-Easter Seals Minnesota for a benefits analysis.
"Initially we did the benefits analysis report for Risa to let her know how work would affect her benefits," explains Jennifer Jensen, a work incentives coordinator at Goodwill-Easter Seals Minnesota. "The nice thing about benefits counseling through Goodwill is we can explain that even if your benefits may stop because you're earing more, if your wages decrease there are safety nets. We also help people figure out healthcare options."
"Jennifer told me I could always call her if I have any problems," Risa says. "A lot of programs help you for a certain period, but then you're on your own. She helps me continue to manage my hours and make sure I don't lose my social security."
In October, Risa applied for a job at Target.
"When I got the job, because of my warehouse experience, they had me working in the fulfillment department helping process online orders," Risa says. "But I wasn't working fast enough. My supervisor pulled me aside and asked if something was holding me back and I told him I had a stroke. He was so kind. He got me a job as a cashier and it's great; I love it."
Now that Risa has a job she loves, Jennifer helps her achieve her goal to work part-time while receiving benefits and navigate the rules inherent in the Social Security system.
Jennifer helps her manage hours and salary to make sure she doesn't lose benefits, while keeping part-time employment.
"Thank you to Goodwill for always allowing me to get help as my employment situation changes," Risa says. "I am just focusing on one day at a time. I never say things like 'Why me?' I just have to keep going."
"And you can call Goodwill today, tomorrow, forever – any time you need a little extra support," Jennifer says with a smile.
To learn how you can get guidance from GESMN's work incentives connection, visit gesmn.org/wic.