Dagme Gets His Diploma
Dagme is no stranger to overcoming barriers. He previously struggled with substance abuse and legal issues, which led to incarceration. In 2022, Dagme moved from Georgia to Minnesota for a fresh start. "It helped me get back on the right track," Dagme said. "I have a daughter, so it took a lot for me to really come here [Minnesota] and miss out on that."
Dagme saw a brochure for Goodwill-Easter Seals Minnesota's (GESMN) YouthBuild training program at Youthlink. "What caught my attention was the age," Dagme explains, who was 23 years old at the time.
The YouthBuild program is for people ages 16-24. Services include hands-on, no cost construction training while earning a GED or diploma.
The words "GED" and "diploma" caught Dagme's attention too since he stopped going to high school so he could provide for his newborn daughter.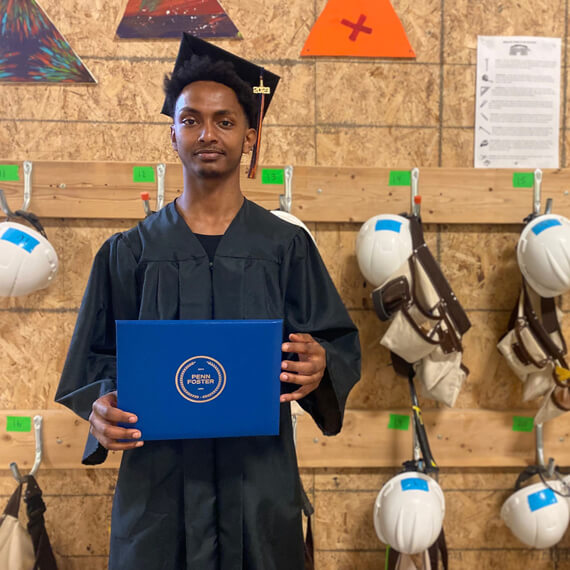 "I have five sisters, one brother and everyone graduated on time," Dagme explains. "My motivation was to graduate with the last [sibling], so nobody was left behind." He also had senior college friends who were about to graduate as well. "I wanted to go through the whole college experience too."
Dagme joined GESMN's YouthBuild program to pursue his goals of earning his diploma and attending college and got assistance with:
College applications and fees
Completing his resume
Earning his diploma
Earning OSHA flagger certification
"No matter what he was coming in with, if he was feeling down or upset, he was able to shift that on a dime. He brought this positive energy in the morning and always engaged and participated in class," said Natalie, GESMN's instructor and career navigator. "I'm really proud of what he brought and shared with others in the program as much as the work he did himself."
In 2023, Dagme graduated GESMN's YouthBuild program with his MnDOT Flagger credential, OSHA-10 certification and his high school diploma with a 3.53 GPA. "You go at your own pace, and it takes a lot of focus and self-disciple," Natalie said. "Dagme was able to really focus and go at a pretty quick pace."
"It's definitely a good program. It shed a lot of light, hope and just a lot of great things," Dagme said. "I want to give credit to the staff because no matter what they were going through, they were always in a good mood, positive. They kept teaching, giving us information and doing a lot for us," Dagme continued.
Dagme is eager to start college and build a bright future.
"I got accepted to Saint Paul College and I'm just waiting for Concordia University to review my application." He wants to major in early childhood education. "I love working with kids," Dagme added.
"I want to chase my dreams now," Dagme continued. "Just focus on myself and my goals, my dreams." His mom always motivated him by saying, "It's never too late, you can do whatever you want."
Learn more about GESMN's YouthBuild program here.
GESMN offers nearly 20 career and job training programs that serve over 4,500 Minnesotans each year. To help support our programs, you can make a donation here today.