Delivering our mission in the community
In December, Goodwill-Easter Seals Minnesota's (GESMN) services & programs team was out in service to the community, helping connect people to jobs and providing resources.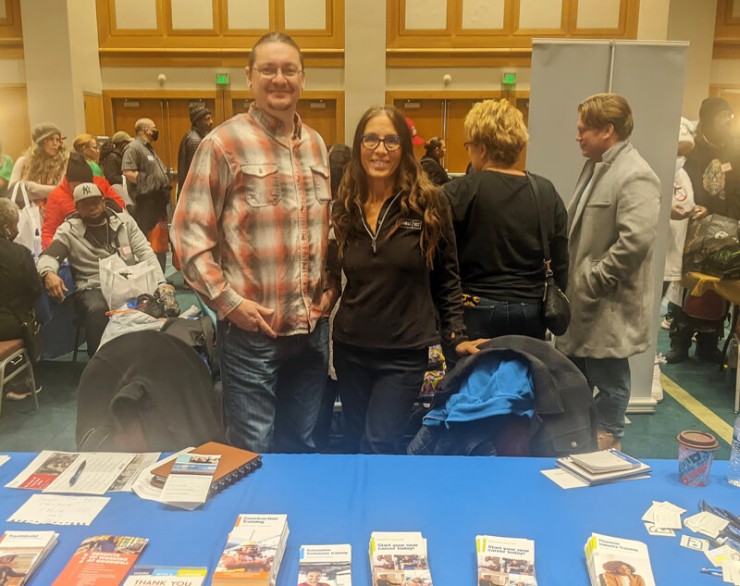 Left to right: Kyle Van Acker, workforce development manager and Jacqueline Reding, outreach & recruitment coordinator.
On December 12, GESMN was part of the 3,000 Acts of Kindness event at the Minneapolis Convention Center. The event was in service to 3,000 homeless individuals in the Twin Cities. From haircuts to essentials (e.g. winter jackets, toiletry kits and social services), the event was all about providing hope and resources for every person who walked through the doors. Our team hosted a space for people to get access to free career training, education and employment services to help build brighter futures.
On December 14, GESMN's Willmar-based services & programs team partnered with Slumberland for the 10th consecutive year of Slumberland's Home for the Holidays event . Workforce Development Manager Shelly Borman helps coordinate people requesting beds with several other nonprofits in the community.
Shelly says, "It is an amazing event! People who are in need can get a bed, a box spring and quilt, with no questions asked." This year, GESMN's Willmar team and members of 11 other local agencies helped people in our community take home over 107 Slumberland beds.
If you or a loved one needs support, please contact us.