Deneal shares her 'secret' to success
Deneal is a published playwright whose play, "Secrets" is a regional finalist in The Kennedy Center American College Theatre Festival National Playwriting Program. It tells her personal story of trauma and how it impacted her life. She hopes sharing her story can spark conversations to help other women heal by facing their trauma and finding support systems.
Deneal's path to become a successful playwright began over a decade ago with support from Goodwill-Easter Seals Minnesota's (GESMN) reentry program. After serving her sentence at the Minnesota Correctional Facility in Shakopee, Deneal faced multiple barriers to securing employment and housing: obtaining transportation and securing important personal documents like a driver's license.
Once she connected with GESMN's Reentry program she knew she was in good hands, "they showed up for me," Deneal said.
GESMN's Reentry services include career navigation, financial literacy and computer skills, mentoring and more through one-to-one case management and support. The Reentry program helped Deneal:
Obtain bus passes
Get connected to programs at Metro State University
Fulfill her work-release requirements
Develop skills to market herself in interviews
Connect with mentorship to navigate her transition from incarceration
One of Deneal's main goals was to further her education. She wanted to learn how to market herself effectively to employers and compete with other candidates that had college degrees.
"I knew I would have to re-invent myself," she said. "I wanted to go to school. I needed help understanding a lot of the paperwork for getting into school because I had been out of school for so long. Goodwill guided me through what programs were available."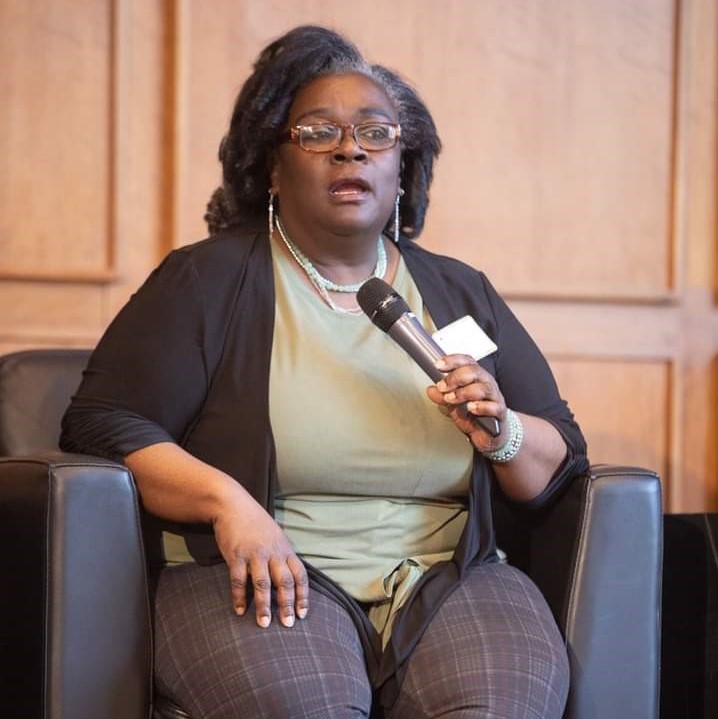 Deneal went on to earn a Bachelor of Art degree at Metro State University. It was there where she wrote "Secrets" as her capstone thesis. Her play has since been put on at local theaters and resonated with others, prompting conversations around healing and intergenerational trauma. She says her playwriting journey was a crucial step that opened discussions about her own childhood trauma, family secrets and injustices, which ultimately led to her incarceration.
"It is a mental health piece," she said. "Unresolved trauma builds on top of trauma and can wreak havoc on your life."
Determined to be a resource for others experiencing similar challenges, Deneal became a volunteer mentor at GESMN and has been facilitating Reentry groups for nearly 10 years. Her passion is to act as "human resource" for people navigating their transition, including the emotional process of "renavigating their relationships with themselves, their families and in business relationships," she said.
GESMN's Reentry program rapidly connects people with employment upon returning to the community from incarceration, mentorship and customized support to meet long-term goals, like Deneal's desire to go to school. We see infinite potential in people who are given a second chance. Learn more about Reentry and family stability programs.