Elwyn's Values and Dedication Shine at FATHER Project
Empathy and acts of service were instilled in Elwyn at an early age by his parents. Elwyn lives by these values as a husband and father to his 7-year-old son.
"I heard about Goodwill-Easter Seals Minnesota's FATHER Project during one of the lowest parts of my life, when I was beginning the divorce process of my first marriage," Elwyn said. "I was struggling to believe in myself so I thought I would give it a shot."
Goodwill-Easter Seals Minnesota's (GESMN) FATHER Project helps people overcome barriers that prevent them from supporting their children economically and emotionally, teaching parenting fundamentals and sharing free tools to help people reach their career goals.
In 2018, he connected with FATHER Project. He appreciated the many services he received and being with a diverse group of fellow dads from many walks of life.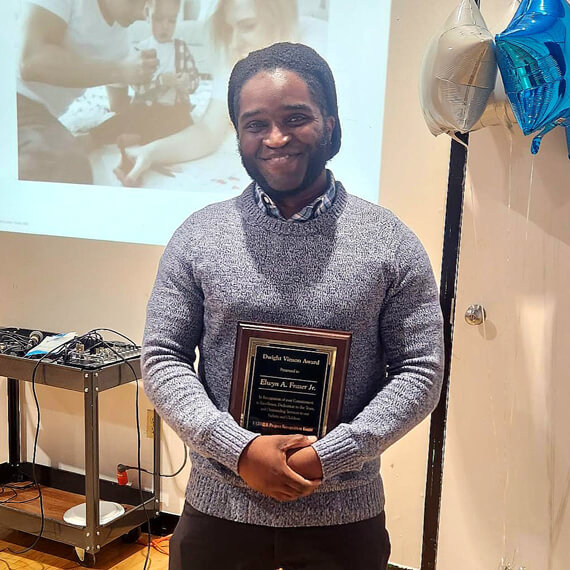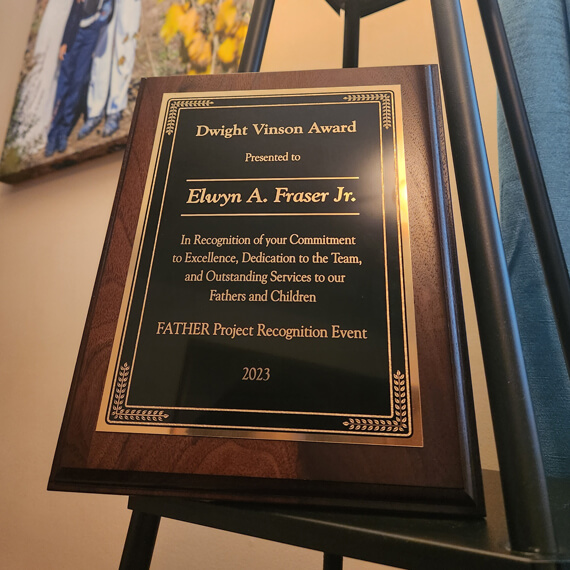 Elwyn started training to become a volunteer parent group facilitator at FATHER Project. Elwyn enjoys, "being able to put my heart, however vulnerable, on the table and see someone pick up what I put down and find their own reflection. That level of connection, to me, is what helps humanity be their best selves…that's what I love most about volunteering."
In 2023, at FATHER Project's annual participant recognition event, Elwyn received the Dwight Vinson Award for his outstanding commitment, dedication and service to the team and fellow fathers. "I simply showed up and did everything I could to live my values; I'm humbled," Elwyn said.
"Elwyn has been an outstanding and devoted father to his son while at FATHER Project. We selected him to become a volunteer parent group facilitator because of his passion and skills. For the last two years, he's been giving back by helping fathers be the best they can be," said Guy Bowling, senior workforce development manager at FATHER Project.
"FATHER Project was really helpful," Elwyn said. "I learned how to deal with trauma in a healthy fashion and built close relationships, which provided a lot of support."
"FATHER Project is a lens of clarity for humanity to see the hearts of fathers," Elwyn continued, "to see past any mistakes, hardships or trauma fathers have endured and see despite all that, the father within. This includes dads being able to see, 'I am a father and if I so choose to act on that I can do amazing things for my child.' The FATHER Project's impact lasts for generations."
FATHER Project will be able to serve even more parents like Elwyn because it recently received $2 million in funding over the next two years from the Minnesota legislature. Learn more about Goodwill-Easter Seals Minnesota's FATHER Project here.