Everyone Deserves a Second Chance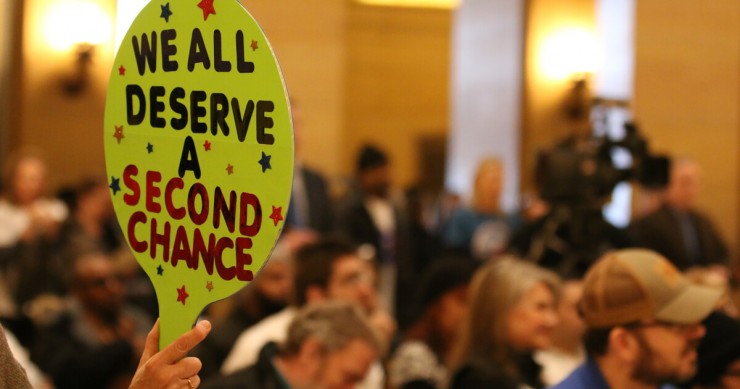 Goodwill-Easter Seals Minnesota believes everyone deserves a second chance. Our reentry team walks alongside individuals returning from incarceration and connects them to resources — education, job training, housing assistance, medical services, mentoring and more — so they can be successful, contributing members of the community.
People who have been previously incarcerated face significant hurdles through called "collateral consequences," which are the additional civil state penalties, mandated by statute, that attach to criminal convictions. Examples can be a loss or restriction of a professional license, voting rights and more.
In order to ensure everyone has an opportunity for independence, GESMN actively engages with government officials to improve public policies that impact people involved with the justice system.
On Feb. 19, GESMN employees, participants and friends marched to the Minnesota State Capitol for the 13th annual Second Chance Day on the Hill. People from more than 60 organizations will filled the Capitol rotunda to hear powerful speakers and meet with their legislators.
Priorities for 2020 second chance legislation include:
Reduce the impact of fines and fees: GESMN supports requiring judges to consider a person's ability to pay before settling fines and ending the suspension of driver's licenses for unpaid traffic tickets.
Why is this important? Fines and fees from traffic and low-level criminal violations strip assets from low income communities, especially communities of color. People who cannot pay a ticket in full or on-time experience an escalation of consequences, including late fees, collection fees, and driver's license suspension, which can create a debt trap that may take years to escape. The phrase "criminalizing poverty" describes this cycle. In addition, when driver's licenses are suspended for unpaid traffic tickets, it makes it very difficult for people to get to work to earn the money needed to pay off the citation.
Restore the vote: GESMN supports restoring voting rights to people who have served their time and are living in the community.
Why is this important? In Minnesota, people with felony convictions lose voting rights during incarceration, and typically do not regain them until after parole and/or probation. While Minnesota has the fifth lowest incarceration rate in the country, it has the fifth highest percentage of residents on community supervision (2,450 out of every 100,00 adults). It's important for Minnesotans who have served their sentence to automatically regain their constitutional right to vote immediately. Changing this policy will make it easier to administer elections, eliminate confusion at the polls and boost positive participation in society. People working and paying taxes in their communities should be able to vote for their elected officials.