A Fresh Start Leads to Business Ownership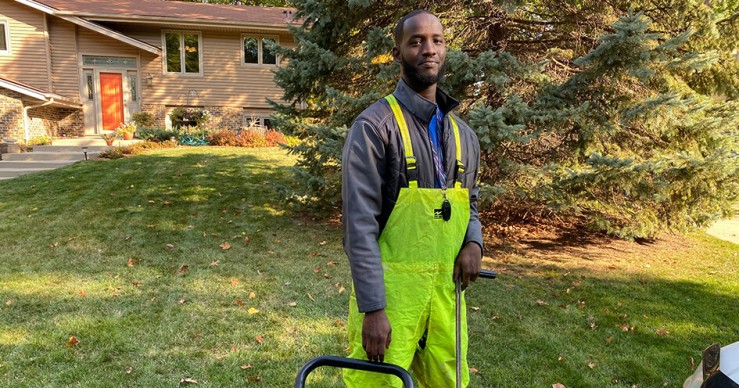 As Fahad looks back on his life, hindsight is 2020.
"When I was younger, I was uneducated, so I made mistakes," he recalls. "I never put a lot of thought towards the things that I did. I was making mistake after mistake without even realizing I was making them, and it came back to bite me."
Those mistakes caused him to spend time in federal prison.
"When people talked about mental prison, I really didn't understand it at first," Fahad says. "But when you do something for so long, you don't even realize what you're doing and how bad it is. When I got physically put in prison, it freed my mind to think about all these things and that's when I realized I needed to change. I met people in prison who would never be able to go home again. I saw the pain in their eyes that they would never get to be with their families again. I didn't want that to be me."
Fahad was released about a year ago and started working right away. Since he wanted to grow his skills, his probation officer referred him to Goodwill-Easter Seals Minnesota's (GESMN) training program.
"Ever since I walked in the door, Goodwill was very open and not judgmental," Fahad says. "I felt comfortable and like I could get my life back on track. There were so many choices I had to make about my future, there were a lot of options and I could have done a lot of stuff - it was a bit of a whirlwind. But Goodwill was there to help."
When Fahad connected with GESMN, Minnesota's stay-at-home order was in effect and in-person training programs were briefly halted. However, his reentry counselor, Betalham, still got him started on a new path.
"When we have partnerships with an employer, we want to make sure we're giving good referrals that will be reliable employees," Betalham explains. "Fahad's situation was a bit different. When he first came in, COVID was just starting and a lot of our hands-on trainings were paused. But we didn't want to lose this connection, so I asked him if he would be interested in an employment opportunity until we could get him into training, and he said yes."
"Now I'm working at Roof to Deck Restoration in St. Paul as a restoration technician," Fahad says. "They pay well, like $20 an hour, and I've never had a job that paid this well before."
On top of all he is doing, Fahad also registered his independent contracting business as an LLC.
"I wanted to start a business, but I knew nothing about it," he says. "I was working for a guy doing independent contracting and he didn't want to pay me in cash. After I told him about my ideas, he said he would help me start my own business. He took me to get all the paperwork and set up a business account. So now when I do independent work, I get paid through my business."
Between his full-time job as a restoration technician and his independent contractor work, Fahad is busy as a new business owner. With support from GESMN and people who believed in him, he is forging a successful new career path.
"My goal is to be comfortable and I want everyone in my family to be comfortable too," he says. "I want to be able to enjoy whatever life throws at me. Nothing too big, I just want to live a regular life."
Next up on Fahad's list is buying a new home for his whole family.
"I was raised by my aunties and I want to get them and my sisters out of our apartment building," Fahad says. "I don't want my family to go through having cold water or having things that stop working. I want them to have their own rooms and be comfortable. But I didn't know anything about owning a house."
Luckily for him, GESMN's reentry team knows a thing or two about home ownership.
"Reentry has three steps," Betalham explains. "One of those steps, once you have a job, is financial literacy and home ownership workshops. We noticed that traditional landlords don't rent to people with criminal backgrounds; their records generally have to be clear for 7-15 years [and even then, they often increase the rent]. So housing is one of the biggest barriers for people. We started a program where people can come to learn about home ownership. Fahad joined the workshops and started the process to become a homeowner in the near future."
With so many new ventures, Fahad's positive attitude is what keeps him going.
"One of the things I've appreciated about working with Fahad is nothing is too big, and nothing is too small," Betalham says. "I really respect that he always has a positive attitude, even when things are extremely difficult."
"You only have one life to live, you've got to live it!" Fahad says. "I've been through a lot in my life, and I'm starting to get immune to thinking negatively. It's an awkward situation to tell someone that you've been in federal prison, but ever since I got out, I realized it was a blessing. I don't feel like I have a record and I don't like to feel like it's holding me back. I know that it's reality that some people may think of me as less, but I don't let it discourage me."
Fahad's fresh start led him to becoming a business owner and hopefully a homeowner, with a little help from GESMN. To learn more about the reentry program, visit gesmn.org/reentry.