GESMN Hosts First 'Behind the Seams' Summer Social Event at Minnetonka Store
Live music, food trucks, behind-the-scenes tours and an exclusive thrifting experience!
On August 9, Goodwill-Easter Seals Minnesota (GESMN) hosted its first "Behind the Seams" event for donors, board members and special guests.
Guests enjoyed valet parking, a special shopping experience at the Minnetonka Goodwill store and a behind the "seams" tour of the store to learn how donated items are processed and sold to fund nearly 20 career training programs that support over 4,500 Minnesotans each year. We provide resume assistance, industry-specific credential training and resources to help job seekers reach higher levels of employment.
Hosted by GES Foundation Board Member, Sita Morantz and her husband Andy, attendees also enjoyed presentations from GESMN employees, refreshments from food truck Sandy's Grill & Italian Ice and live music from local band Machinery Hill. Minnetonka Mayor Brad Wiersum expressed support of our store's commitment to the local community and a greener Minnesota.
To attend future special events and learn more about how you can support GESMN's mission to provide career training and resources in your community, consider making a donation or email Naomi Prabhakar at for information.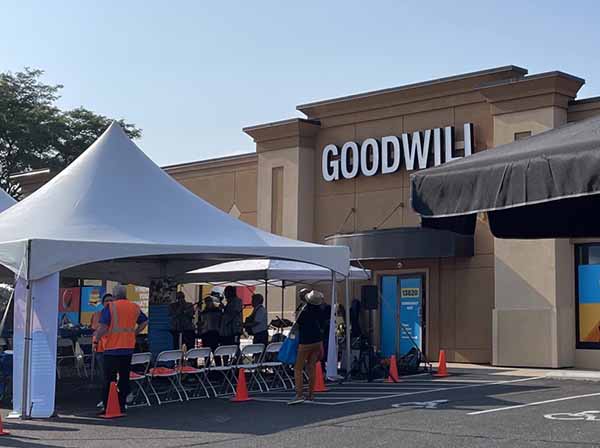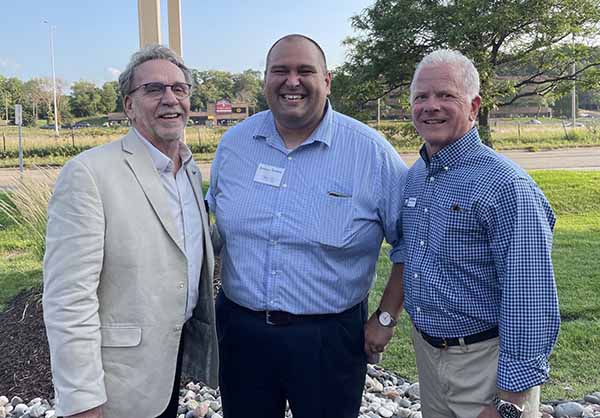 GESMN President and CEO Michael Wirth-Davis (left) connects with GES Foundation Board member Andrew Feikema (center), and Minnetonka Mayor Brad Wiersum (right).