Goodwill Community Partnerships to Welcome Fall
Fall fun is in the air, and Goodwill-Easter Seals Minnesota (GESMN) is partnering with several Twin Cities organizations to celebrate autumn events in our community. We hope to see you and your family at one or more of these events!
Valleyfair Tricks & Treats
GESMN is your Halloween Headquarters for clever costumes, fall décor and spooktacular savings. We're partnering with Valleyfair Tricks & Treats on Saturdays and Sundays, September 23 through October 29. Enjoy costume contests, presented by Goodwill, candy and adventures in the "Land of Treats." Take advantage of Goodwill's monstrous savings to find your perfect costume and spooky décor for less. Learn more here.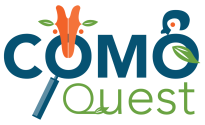 Como Quest
GESMN's sustainable reuse practices go hand-in-hand with Como Park Zoo & Conservatory's conservation efforts to help people learn about animal and plant habitats via a scavenger hunt! Join this family-friendly event on Saturday, September 23 or Sunday, September 24. Learn more here.