Goodwill Outlet Shopping Features By The Pound Pricing
Shopping at Goodwill's outlets is a great way to find unique treasures for less. Three wholesale and outlets in Chaska, St. Paul and Brooklyn Park offer unique items at even lower prices than Goodwill stores.
Watch CCX Media's interview with our Brooklyn Park General Manager, Kenneth here, and learn how we steward all donations, even after they don't sell in stores, to help keep Minnesota greener.
In addition to being a great way to find one-of-a-kind deals, outlets play an important role in helping us divert over 65 million pounds from local landfills annually.
If you're a first-time outlet shopper, here are some tips to keep in mind:
Grab a cart. You may be surprised by the number of items you accumulate while shopping.
Don't limit yourself to clothes. Goodwill outlets have a variety of items like books, furniture, electronics, glassware and more. Explore different bins to find unique items.
Follow employee directions. When employees bring out a new bin of items, you'll want to wait until an employee gives you the "go" signal to start digging for treasures.
Get a Goodwill reusable tote bag. For just $4.99 you can purchase an extra-large Goodwill reusable tote bag for your hauland bring it back for future shopping atrips.
Be adventurous and have fun. You never know what you might find and bring home. Items are available in bulk bins and priced by the pound. Enjoy the experience!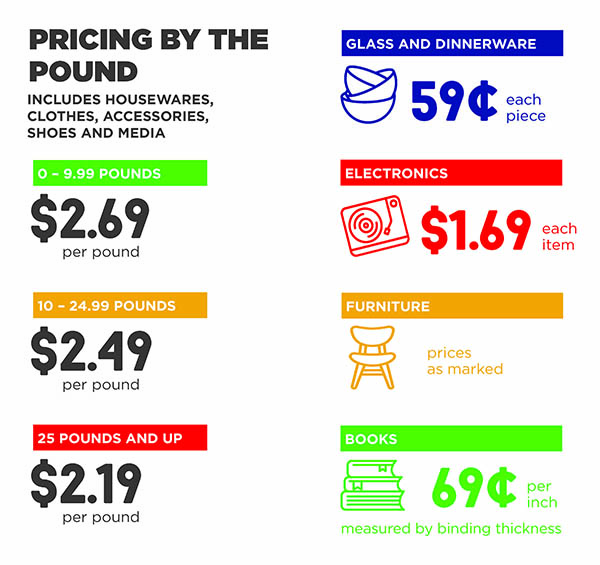 By donating or purchasing at Goodwill's stores and outlets, you help support GESMN's nearly 20 programs that serve over 4,500 people each year in our community who deserve equitable access to jobs and stable careers. Learn more about GESMN's mission here.