Guiding Minnesota's youth into stable careers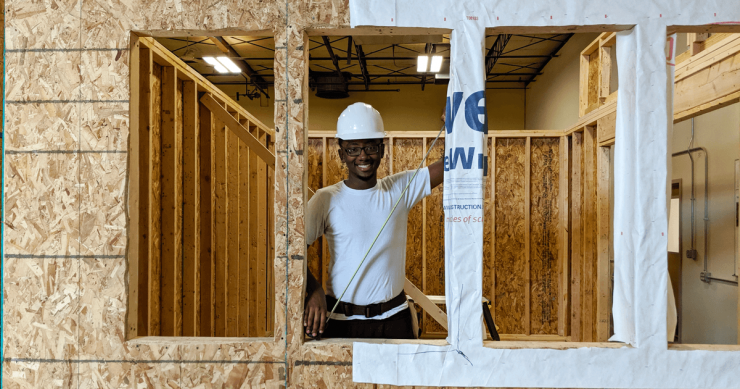 There are an estimated 4.9 million young adults ages 16-24 in America who are neither working nor in school. Of those youth, roughly 3 million are living in poverty, without access to education, employment or training. That's where Goodwill-Easter Seals Minnesota (GESMN) and YouthBuild come in.
"I started YouthBuild in the summer of 2019 after enrolling in twelfth grade for the third time," says Markel.
GESMN's partnership with YouthBuild, a national organization that works to unleash the intelligence and positive energy of youth, is helping young adults in our community find successful career pathways. YouthBuild teams provide access to jobs, education and other opportunities that lead to productive livelihoods and break the cycle of poverty.
"I came to YouthBuild to get an education and some construction training. But through the training I also earned other certificates and credentials that will help me as I continue this journey," Markel says.
YouthBuild students are encouraged to become ethical young leaders who take responsibility for their families and communities and make change through civic engagement. Students spend roughly half their time in individualized classrooms working toward their high school diploma or equivalent, earning skills and certifications needed to succeed in high-demand careers and preparing for postsecondary education or apprenticeships. In addition, students put their new skills to work with hands-on building of affordable housing units, construction projects and more to improve their own communities.
"The day before YouthBuild graduation, I passed all four GED tests and earned my high school diploma," Markel says. "Now I'm working on getting my driver's license back! I work two part-time jobs and my Goodwill career navigator is helping me find full-time employment in the construction industry. If you're trying to get your life on track, looking for a diploma or a job, this is the place to be!"
Due to the generous gifts of people who support GESMN's programs like YouthBuild, Markel's life is back on track. Visit gesmn.org/give to learn about how you can get involved.