Ian Proves Second Chances are Possible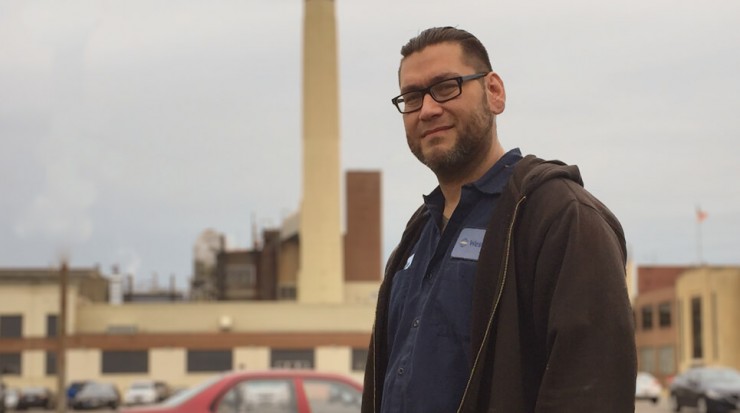 On any given day, people juggle several roles that create a sense of identity, purpose and connection (e.g. a father, a boss, a caregiver for a friend, etc.). Over time our roles shift, some fall away and are replaced, others mature and become richer.
The role of addiction can infiltrate one's identity and disconnect us from others. Ian's story shows if you can find inner resilience and have the right people in your corner, you can take control of your future and redefine your roles.
Ian grew up in the Twin Cities. He is a father of three and spent the early years of his professional career as a gifted airline mechanic and welder. The life he worked so hard to build was unfortunately rocked by addiction.
"I fell off the wagon," Ian recalls. "I ended up incarcerated after multiple DWIs and entered a treatment program."
It was during incarceration that he became aware of Goodwill's services.
"I heard of Goodwill in the treatment program, but thought it was just the stores," said Ian. "But I learned about their career services."
Upon his release, he turned to the reentry team at Goodwill-Easter Seals Minnesota to help him build a foundation for success.
"I didn't have a lot of support when I left prison. But I spoke with two reentry counselors at Goodwill and they were awesome! They helped me find a temporary job in the Goodwill outlet," Ian says. "Getting a job at the outlet gave me the freedom to look for the job I wanted while following the rules of my parole."
Ian has since moved on to a new vocation he considers a dream role. "I work in the maintenance department at WestRock papermill. A lot of guys try to get in, but they are really picky about who they hire," Ian explains. "I talk to guys around here who have been here 30 years. I couldn't be in a better place."
When asked about the importance of his new role, Ian says with a smile that it feels like he has his old life back, after prison left him feeling like he would never return to normal.
With his newfound lease on life, Ian has plans to open a sober house with a friend to assist others going through addiction, taking on a new role as support person.
"I just want to say thank you to the mentor group and everyone at Goodwill," Ian says, "No one asked me what I was in for. They did not care about who I was before, they only cared about who I am now. They helped me create a game plan for success."
If you are interested in creating your own road map to success after incarceration, contact the reentry team at Goodwill-Easter Seals Minnesota.
​​​​​​​