Keilah Finds a New Path After Graduation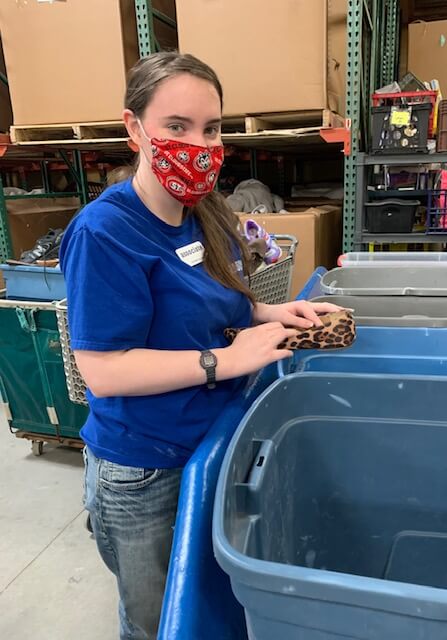 Forging a new path and learning new things can be challenging for people; it's a feeling most of us have experienced in life.
Keilah's perseverance and willingness to learn ensured that nothing could come between her and her dreams for a brighter future.
After graduating from high school, Keilah enrolled in the Bridges transition program, a specialized course for 18–21-year-old students with disabilities. Students gain confidence, skills and receive support in work readiness, health/well-being and independent living.
While in the Bridges program, Keilah volunteered to gain work experience at the Gopher Bargain Center and Edgewood Senior Center, where she loved playing bingo with residents. After completing the program, Keilah was referred to job placement services at Goodwill-Easter Seals Minnesota (GESMN) to help find a permanent position.
Keilah found a job, but quickly realized it was not a fit. GESMN worked to reassess her skills and connect with Career Navigator Kayla in an on-the-job evaluation program. "Right away, I noticed Keilah's positive attitude. She brings a smile and brightness wherever she goes."
"My career navigator Kayla is really nice and helpful; I've had so much fun working with her," says Keilah.
Unsure of working on the sales floor at Goodwill's St. Cloud store, Keilah started out slowly by organizing games and puzzles on the shelves, the kind of detail-oriented work she enjoys. Over time, she learned store operations and workflow. She now thrives with more responsibility and has confidence in her daily work, which ultimately helps the store contribute proceeds toward GESMN's mission.
"I wasn't sure what to expect at first and was so nervous on the first day. Once I learned what we were doing, I started to feel a lot more comfortable," says Keilah. "I love art and photography; I hope to transfer my skills from Goodwill St. Cloud into a job in the field of art."
Keilah gained both experience and confidence with help from her GESMN career navigator and the St. Cloud store team, helping her learn the ropes. It takes courage to try new things and Keilah has a bright future ahead of her, wherever her career path takes her.
If you or someone you know could use job support, visit gesmn.org/services.