Michael Wirth-Davis named the 2020 Goodwill Sustainability Champion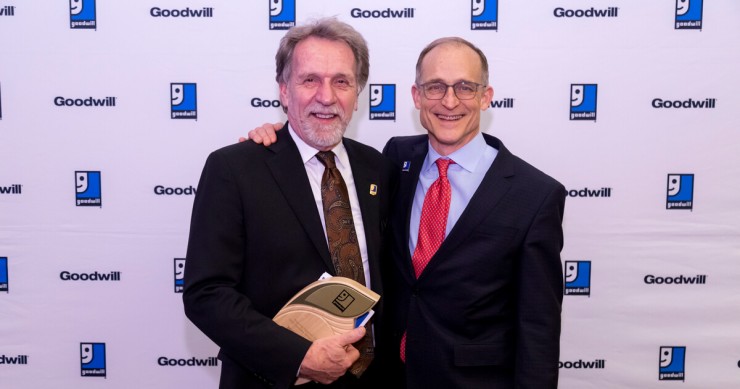 Michael Wirth-Davis, Dr. PA and Goodwill Industries International President & CEO Steven Preston
Congratulations to Goodwill-Easter Seals Minnesota's President & CEO Michael Wirth-Davis, who was named the 2020 Goodwill Sustainability Champion at Goodwill Industries International's AMCOE meeting in Nashville on February 28, 2020.
The award recognizes a CEO who consistently demonstrates strong leadership in support of the triple bottom line: People (social impact), Planet (environmental impact) and Performance (prosperity/financial impact). It recognizes not only green business practices, but also educating the public and creating socially innovative partnerships to enhance the environmental health of the community.
Under Michael Wirth-Davis' leadership:
GESMN eliminated the use of new plastic bags in stores, keeping 4M plastic bags (63K pounds) from entering landfills annually.
We pick up 10,000 pounds of clothing from the Twin Cities Marathon route every fall to be reused.
Over 4,000 pounds of warm winter coats are given to people leaving incarceration in partnership with Ramsey/Hennepin County adult detention centers.
Our organization received Goodwill Industries International's Sustainable Business Practice Waste Diversion Award.
GESMN partners with the MN Pollution Control Agency at the State Fair's Eco-Experience to educate over 2 million attendees about recycling and reuse.
The Sustainability Champion is one of just six awards given annually to a network of 157 Goodwill organizations in the United States, Canada and 12 other countries.