For over 50 years, Rose Ramey helped thousands at GESMN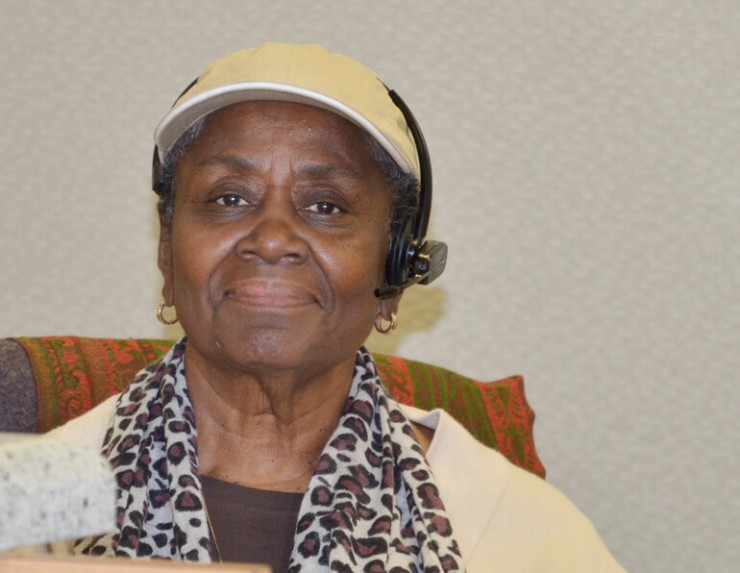 Our former colleague, Rose Ramey, passed away last Friday, October 15. Many of you may remember meeting Rose at the front desk of the St. Paul campus, where she worked as guest services coordinator for several years.
When she retired in early 2018, Rose was GESMN's longest-serving employee with 54 years of service. Throughout her lengthy career she influenced large numbers of program participants, and staff, to recognize their talents and use these in service to the organization's mission, as well as to their own families and communities.
A native Texan, Rose moved to Minnesota in the late 1950s. After she was laid off from her job at the Minneapolis Rag Company, she applied for a position with Goodwill (it would not become Goodwill-Easter Seals Minnesota for another 20 years), which then was located on Sibley Avenue in downtown St. Paul. She was hired as a textile grader in 1964 and began her long career with the organization.
Several months into her new position, she was asked to manage Goodwill's kitchen at the Sibley site. At the time it served lunch to all employees. In 1970, Goodwill moved out of downtown St. Paul to a location at Como Avenue and Highway 280. Here, Rose had a much larger kitchen for accommodating both breakfast and lunch. In this facility, known fondly as "Rose's kitchen," Rose taught her staff, as well as participants in the organization's training programs, how to cook, bus tables and do the dishes. She also did catering for external groups out of this kitchen. Her peach cobbler, sweet potato pie, bread pudding, macaroni and collard greens were legendary among employees who were fortunate enough to have had opportunity to try them.
In 2002, Goodwill-Easter Seals Minnesota moved headquarters to its present location at 553 Fairview Avenue in St. Paul. Rose accepted the new position of guest services coordinator. For 14 years she was the first person to greet visitors, staff and participants as they entered the building or called on the phone. During her final years at GESMN, Rose worked on the organization's historical archives in preparation for GESMN's 100 year anniversary in 2019.
Rose lived her values outside Goodwill-Easter Seals Minnesota as well. She helped establish an on-site feeding program for the homeless at Shiloh Missionary Baptist Church in St. Paul, where she was a member for over 30 years. She volunteered for years planning menus, ordering supplies, cooking meals and training staff for a program which some years served over 10,000 dinners.
Rose's legacy lives on in the thousands of people whose lives she touched, including mine. For 28 years Rose was my colleague, champion and friend at GESMN. I mourn her passing, while also being glad for her that she is at rest and at peace.
For those who would like to pay their respects to Rose, a memorial service is scheduled for Friday, October 22 at 11 a.m. at Shiloh Missionary Baptist Church, 501 Lawson Ave. W., St. Paul, MN.
Sincerely,
Michael Wirth-Davis
President & CEO