From Participant to Partner – Michael's Story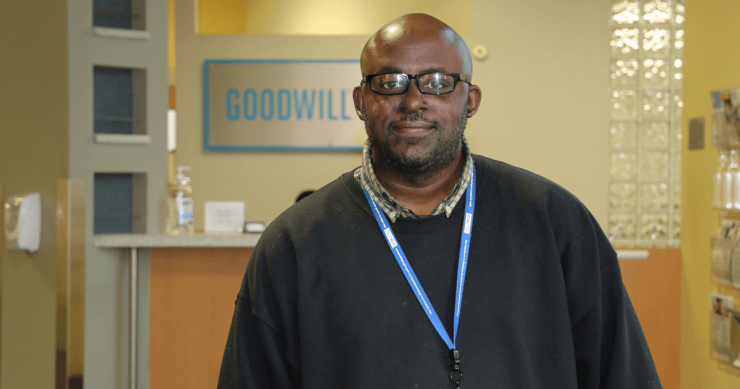 Michael knows firsthand what it feels like to reach out to Goodwill-Easter Seals Minnesota (GESMN) for help. He knows what it's like to meet for the first time with a career navigator. And he knows how to chart a successful career path.
As a participant of FATHER Project, a program that assists fathers in overcoming the barriers that prevent them from supporting their children economically and emotionally, Michael understands what participants may feel when they walk through GESMN's doors.
Now, Michael is a full-time employee on GESMN's reentry team. He helps people who have left incarceration rejoin the community, often drawing on his own personal experience with employment barriers to advise his clients.
"I came to the FATHER Project in 2009," Michael explains. "I needed genetic testing for my youngest child and guidance on my rights and responsibilities as a father [if I had any]. I also needed help with employment because even though I was a college graduate, I was unable to find work during the recession. On top of that I needed help with transportation, housing and the whole nine yards."
FATHER Project helped Michael navigate his rights, set goals and worked together to eliminate barriers keeping him from being a working, wonderful dad. Once Michael completed the program, he decided to stick around.
"I became an employee of the FATHER Project after I was done receiving services," Michael shares. "I was able assist a lot of the men that came in and I could really relate to them. I had just been in their shoes, looking for help and advice."
Michael worked at the FATHER Project for years, providing parenting coaching, guidance in filling out legal documents and mentorship for dozens of fathers. In 2019, Michael found a new opportunity within GESMN and transitioned to the reentry team as a career counselor.
"I see a lot of things in my case load," Michael says. "I work with people in lots of different situations, but all of them were incarcerated at one point. They need help with big things like understanding their rights as a previously incarcerated individual. But they also need help with small things like how social norms have changed since they've been in prison. No issue is too mundane to talk about."
As a true partner for his clients, Michael provides unique insight and empathy because he has walked in similar shoes. His approach for working with participants is to never judge someone else's situation.
"I really enjoy helping people who don't know where to turn," he says. "I am determined to help every one of my clients find success – whatever that may look like."