Q&A with Ali Gliadon
Goodwill had the chance to work with Ali Gliadon, nurse, mom, wife and local thrifter to talk about her vision and process for decorating a room with thrifted items and making it a style of her own.
Why do you thrift?
I am passionate about thrifting for many reasons. I love history and I think it is so cool to be able to reuse items that have a past life, and tell a story. I also believe thrifting is a way to help the environment by reducing waste and recycling perfectly good items that just need a new home. Instead of ending up in a landfill, they can end up in our living room, bedroom, bathroom, kitchen, you name it. I love the saying, "someone's trash can be someone else's treasure."
What do you look for? Do you have a vision before shopping?
I try my best to go thrifting with at least a room in mind, but I often find little treasure along the way that totally surprise me. I think that's the beauty in thrifting, you never quite know what you're going to find.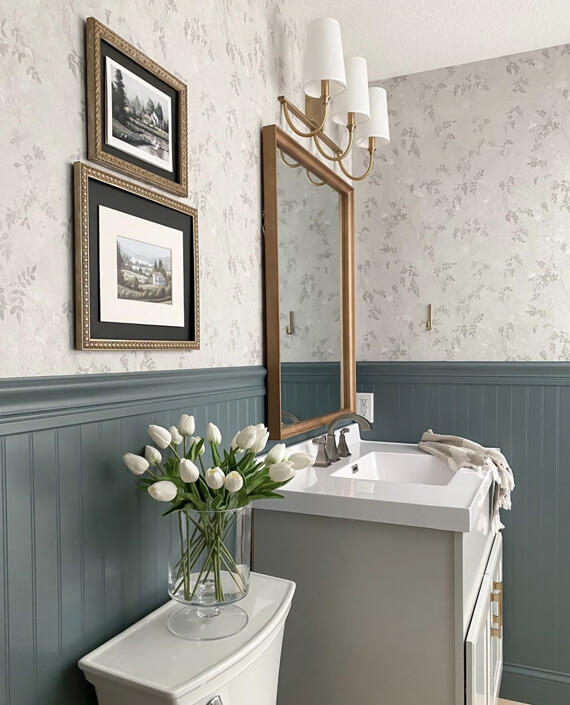 What is your process when decorating a space/room?
I typically start designing a space by creating a mood board on the app Canva. This helps me create a cohesive plan, and stay on track with big ticket items like furniture. From there, I love to go thrifting to fill the space with décor, art, frames, lamps, you name it.
What was the best item you found thrifting?
It is so hard to choose just one. I found a gorgeous blue and white Chinese vase that makes such a statement, I have been moving it all over my house. I also found an adorable vintage table and chairs for our kids' playroom. I love when people ask, "where did you buy that?!" and I can respond with, " I thrifted it!" Thrifting makes any space feel so unique and special because it's hard to replicate.
What has been your favorite project/room that you have decorated?
That is a tough one! I would have to say my favorite rooms to decorate are kids rooms/nurseries. There is something so precious about tapping into a kid's spirit, and showcasing what they love, but still making it feel elegant. I love both of my daughter's bedrooms, and most of the décor is thrifted, making it feel very charming.
About Ali
I'm Ali! Born and raised in Minnesota (besides college in Colorado ) I am married to an awesome man, Russell, and we have two beautiful daughters Stella (3) and Juliette (1). I am a nurse and currently in school advancing my degree to become a nurse practitioner. I am passionate about design, and love making our house a home one thrifted adventure at a time!