Q&A with Services & Programs Excellence Manager Deb Tretsven
What is your role at Goodwill?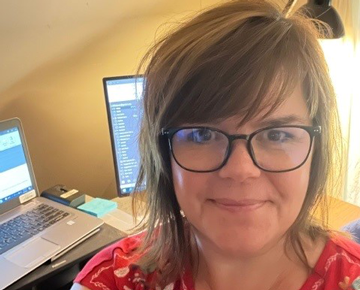 I am the services & programs excellence manager. The excellence team supports Goodwill-Easter Seals Minnesota's (GESMN) services & programs through administrative support, data entry and providing community resources for people that are enrolled in our programs. 
What trends are you seeing in the community related to workforce development? 
I tend to look at trends happening within GESMN's program participant community. I have a unique perspective because I see all the internal and external data, community resource requests from current participants and more. One trend I know to be true is that people in our programs consistently need help with more than just finding a job. 
Is there a participant(s) who stand out in your mind or whose stories were impactful? 
I don't typically work directly with the people who come to GESMN for help, but I do hear about them through staff stories. These participants are making big and small strides all the time! They are learning, making positive life changes, getting jobs, advancing in careers and overcoming barriers. There are also lots of needs for the people in our programs – everything from the basics, such as food and clothing, unique needs like adaptive equipment, childcare and sometimes access to computers to help them apply for jobs. We know the resources we provide can have a direct impact and help folks maintain or gain employment. 
What are common barriers to employment you see most often? 
Transportation is the most common barrier, but the list of what can prevent someone from preparing for or engaging in work is long and varied. Some may need interview clothing or a uniform to get started, while others need specific tools or an industry specific license, or credential or a phone bill paid. Today, access to technology is more important than ever and participants need computers and/or internet access to assist in finding jobs.
How does Goodwill-Easter Seals Minnesota help? 
Services & programs staff provide direct service, learn about each person they work with and what is preventing them from reaching their goals around education, employment and independence. Depending on the situation, staff can submit requests to our team for community resources such as bus and gas cards, grocery and other retail gift cards, Lyft rides, refurbished computers, monthly internet service fees and referrals to partner agencies like Bridging, Ready for Success and others.

 
What do you wish people new about the community resources program? 
While community resources is only available if you are a participating in a GESMN program, we get creative in getting participants what they need to keep them moving in the right direction. GESMN has connections to other organizations that can help as well. Overall, we want to help people get ready for work, get to work, stay at work and advance in their jobs. Every situation is unique, and our team works with staff to find solutions.