Victoria and Cristina Breaking Down Barriers
Before Goodwill-Easter Seals Minnesota's (GESMN) construction training program, Cristina was busy caring for her five children and husband full time. When she wanted to go back to work outside the home, she started her search online. "I went online and found out about the [GESMN's construction] program from a Facebook post," Cristina said. "I'd never put my hands on any tools before, so at the beginning I was a little scared, but Victoria said, 'You can do this!' and we did it together," Cristina continued.
Victoria worked in mortgage finance, so coming into the construction industry was brand new for her as well. "I had some personal things that kind of lit the path that led me here, to this program and industry," Victoria said.
"I wanted, as a woman, to be really self-sufficient. I don't like relying on other people to do stuff for me," Victoria continued. She previously did some DIY projects around her house, but her only education tool was YouTube, which only got her so far. "The projects I completed, I'm really proud of myself for. I realized that I felt best with my power tools and knew it was something I was passionate about," Victoria said.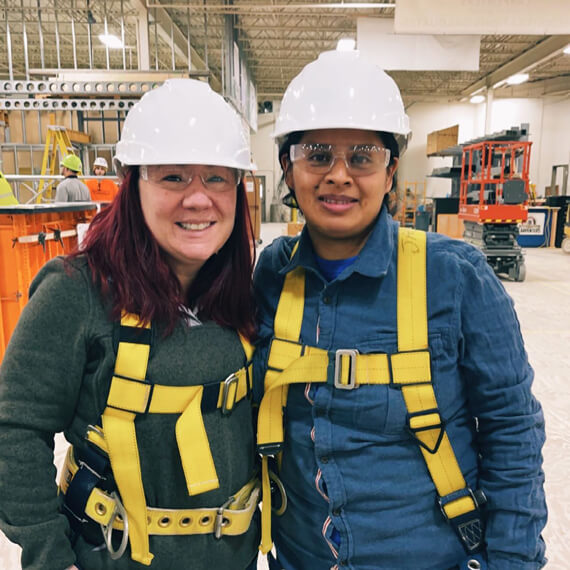 Victoria was on Saint Paul College's website and saw GESMN highlighted as a foot in the door, an entryway to a bright future in construction. "I read about the [construction] program and thought it was too good to be true. I decided to swoop in on the opportunity," Victoria continued.
In 2023, Victoria and Cristina joined GESMN's construction training program. They got hands-on industry training at GESMN's 5,600 sq. ft. training facility, which included OSHA 10, Arial lift and Flagger certifications, construction math and measuring, blueprint reading, tool use, insulation, siding, roofing, deconstruction, and job placement assistance with GESMN's employer partners. Throughout the program, they kept each other motivated, partnered on projects and graduated together.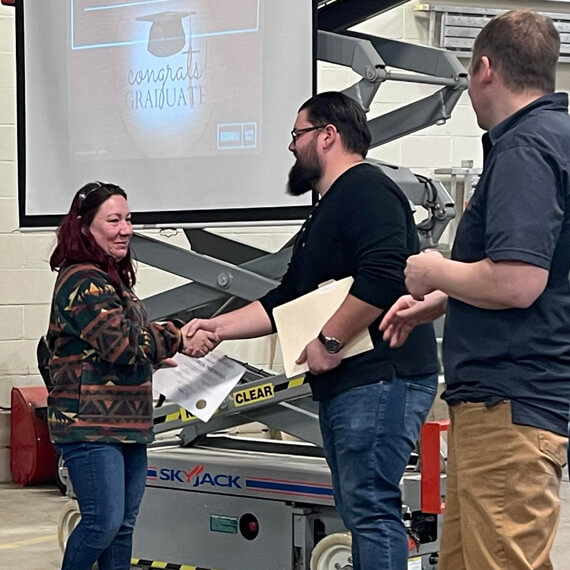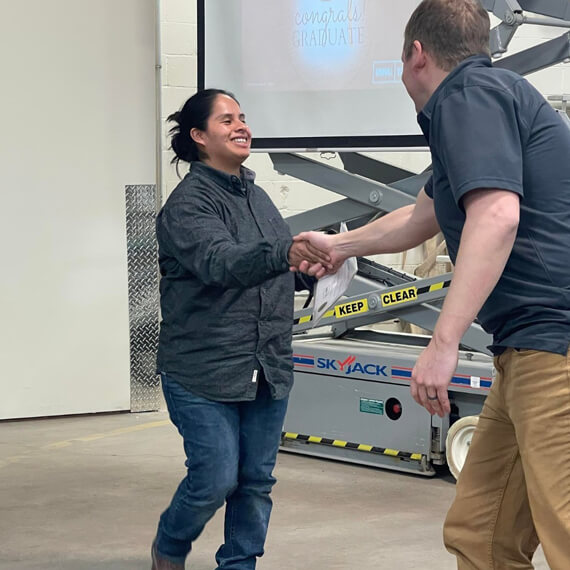 After graduation, Victoria and Cristina enrolled into a highway heavy construction training program sponsored by the Minnesota Department of Transportation. "Training at the Carpenters Training Institution and GESMN exposed us to the many different jobs we could do, under the vast carpentry umbrella. We got to, not only see, but got actual hands-on experience of what it would be like to work in different parts of the industry," Victoria said. "I love welding, torching and framing," Cristina added.
"I want to work on my knowledge and learn what it takes to be in a leadership or teaching role. My target is to teach women specifically and give back," Victoria said.
"I want to learn as much as I can, so that I have the knowledge to build houses and help the community, specifically the Latino community," Cristina said.
"We're currently looking for the next steps. We're about to step into another journey, which would be employment with a contractor. We are already aware of the challenges that we face coming into the industry as women and minorities, but I'm grateful to have Cristina to lean on during this process," Victoria said. "We don't need the door opened for us, just for the door to be unlocked. We'll kick it down from there," Victoria continued.
"My advice would be to take advantage of the opportunity that's being given to you. It's a free program for individuals to participate. Don't take it for granted and use it as an opportunity to invest in yourself and your future. What you put into it is what you're going to get out of it," Victoria said.
"My instructors were amazing," Cristina said. "They took the time to teach me math. They were really patient. If people are interested in investing in themselves, it's an amazing place to get into a construction career because they teach you the basics.
Victoria and Cristina both secured jobs as carpenter apprentices and are proud members of the Carpenters Local Union 322. Congratulations! Learn more about GESMN's construction training program here.