Where there's a will, there's Goodwill
Goodwill-Easter Seals Minnesota launches new way to access career and training resources
For over a century since 1919, Goodwill- Seals Minnesota (GESMN) has helped connect people to jobs in our community.
Every year we serve over 4,500 people who deserve equitable access to jobs and stable careers.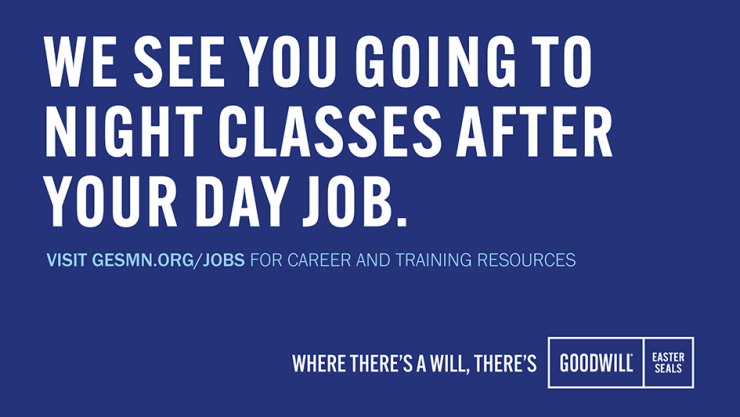 Most people know us for our thrift stores and as a place to donate items. We love that! But we want to tell you about the people we serve.
We See You
"To those who refuse to let disability hamper their capability. To those who work nights, so their children can live fuller days. To those whose past doesn't stop them from working toward a better future. To all the driven, passionate people who work tirelessly, so they and their loved ones can live more comfortably — we see you. We see the work you've done, and all the good work you can do. Goodwill-Easter Seals Minnesota exists to give you the resources you need. To start living the life you deserve."
Where there's a will, there's Goodwill
This month we're launching a campaign that makes it easier for people to connect with our services by visiting gesmn.org/jobs. A new texting option will be available soon as well. You may see billboards, social media and messaging around the community to let people know we are here to help.
Join us! Make a donation, recommend our services to a friend or family member or simply take a minute to read about some incredible people who partnered with us for career success.