Carly proves her tenacity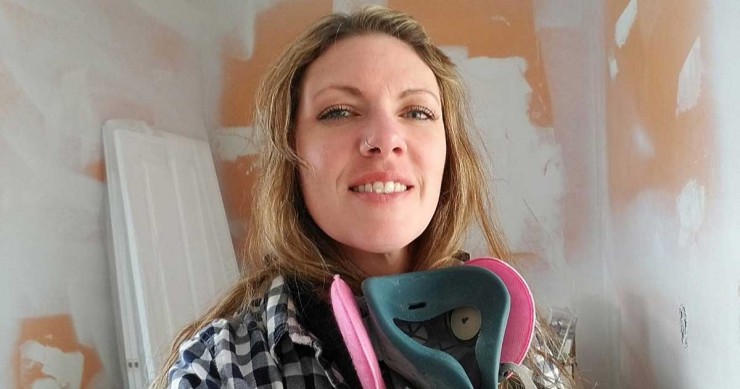 After working as a nurse for years, Carly found herself in a legal battle and facing up to 12 years in prison, away from her young children. After settling her case and serving four years, she was left wondering what was next. No longer able to work in the medical field where she'd spent her career, it was time to forge a new career path.
"I spent my last $30,000 on lawyer fees and everything I had known was in the medical field," Carly explains. "I couldn't work as a nurse anymore because they do background checks when you apply for a position. I took advantage of this 'time off' and I took every class they offered in prison. I was even fortunate enough to do a graduate class from Mankato State. I did a lot of self-reflecting and took advantage of the time."
When Carly was released from incarceration in September 2018, she was ready to roll.
"I am a career-oriented person and I started advocating for myself. I reached out to a woman in the Twin Cities asking if she'd rent housing to me while I was in prison. I had my family write letters on my behalf and I was approved."
After securing a stable living situation, Carly set out to find a new career.
"I was trying to figure out what I was going to do with my life and who would hire someone with a felony," she says. "I wanted to have a career, not just work random jobs. Even if I had to go back to school, I was willing to do anything."
It was a family member pushing her to think outside of the box that got Carly interested in construction.
"My cousin is an electrician and he said I should look into construction," she explains. "I've always been into remodeling homes, so I started advocating for myself again. I shadowed a master electrician four days a week during his lunch break. For six months I sent my resume and went to interviews everywhere, but I kept getting told no because I didn't have any professional experience. I have never been told no so many times in my life."
In order to get the professional experience needed to secure a job, Carly turned to Goodwill-Easter Seals Minnesota for training.
"I did the construction training for 12 weeks. The first six weeks were in the classroom and the second six weeks were out in the field," Carly says. "I was supposed to graduate in the beginning of May, however, in the beginning of March, there was a panel of women in construction at Goodwill. I couldn't make it but one of the instructors knew I was interested in becoming an electrician, so she connected me with a hiring manager at a large electrical contractor."
"I reached out to the project manager right away and they said they were waiting for the ground to thaw," she says with a laugh. "But they hired me on April 8, and I've been with them ever since!"
"I love seeing projects completely through from start to finish. I walked into the job the first day and asked so many questions. But I figured it out and am so proud of myself."
Carly's ambition does not stop there.
"I recently realized I want to do more," she says. "I like thinking logistically and was trying to figure out what to do with that skill. On my last day at a project I spotted a major miscommunication between the different trades that were working on the site. That's when I realized I should be a project manager."
Carly started school at North Hennepin Community College in August to learn construction management with an emphasis on electrical.
"After gaining the experience at Goodwill and going to work, I had the financial freedom to send my daughter to horse camp!" she says. "She wanted to go since I was in prison and making a quarter an hour; I couldn't afford that. So, it's the first thing I did when I had money."
Now that she is back on her feet, Carly offers this advice to people who hear her story:
"You don't have to settle for what this world is stigmatizing you as. People change, just like seasons, and sometimes people were never given the chance to do anything with their life. I want people to know that you don't have to settle with what you're dealt and it's never too late to be what you could have been."
Carly's parole officer plans to bring her back to the prison where she spent four years of her life to tell her story and inspire other women. "I am kind of to the point now where I make the most of every day…unless I'm tired and want to binge watch TV," she says with a grin.