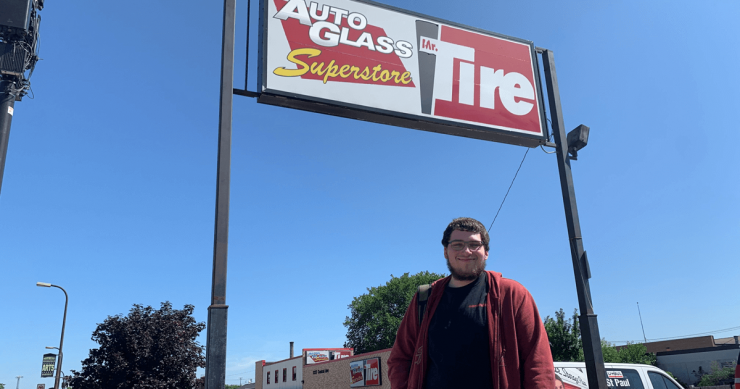 Chris Turns Setbacks into Success
Chris has loved cars for as long as he can remember.
"When I was in pre-school, they had to take everything that looked like a car away from me," he says. "Even when they did that, I ended up playing with a baby stroller!"
When he came across GESMN's automotive training, he knew it was the perfect way to follow his passion while pursuing a fulfilling career.
"My disability is a struggle for me," Chris says. "But going to the automotive training gave me confidence and got me ready for interviews and to work."
"I graduated high school, but my diploma was held so I could go to T+ (Transition Plus)," he explains. Transition Plus provides services to students with educational disabilities and transition needs in post-secondary education and training, employment and independent living to promote a successful transition from high school to adult life.
During T+ he worked a couple of cleaning and warehouse jobs. Then, Chris enrolled in the automotive training, where he had perfect attendance [which is impressive since he was also working].
"I would get up at 6 a.m. to get to class and then would work until 11 at night," he says. "But it was very peaceful in the class sometimes to just be working on cars and focus on that and nothing else."
After graduating from the class, he started working at an automotive shop.
"Chris has dyslexia and potential employers were judging his skills based on his ability to fill out the job application," explains Larry Curtis, GESMN automotive instructor and Chris' career navigator. "It took a few interviews to figure out that the employers were overlooking his skills. Then, a small shop took a chance on Chris and he did very well there. Unfortunately, a more experienced master technician became available and they had to let Chris go due to lack of workspace."
Chris came back to GESMN to search for jobs once again and went through the same challenges as the first time.
"Then, Steve Buck, owner of Mr. Tire, came to learn more about our program," Larry says. "I told Steve about Chris and his skills and he asked him to come in for an interview. Steve hired Chris on the spot."
"They are very nice at this shop and patient," he says. "I enjoy it so far. I can grow and learn and when it's slow I can self-advocate with the other mechanics and learn how to do a brake job or mount different sized tires."
Throughout all the ups and downs, Chris' positive attitude shines through.
"Whatever you have, whether it's a disability or anything you think you can't do, Goodwill will help you get it done," Chris says. "You've got to push yourself to the limit too, and you'll find great things."
"If you're going to work a job for the rest of your life, you better love it," he says with a smile. "because that's what you're going to spend most of your time doing. I don't mind doing this right now. Who knows, in the future I might start my own shop or do my own thing, but for now, I'm working!"
Your support improves the well-being of individuals and their families by training people for valuable and well-paying jobs. Visit gesmn.org/give to help transform lives of people like Chris.