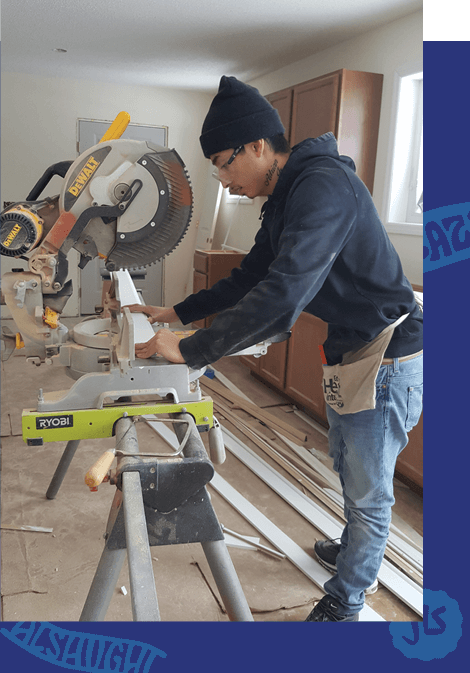 Meet Adrian
Construction is a growing field and skilled workers are in high demand. Goodwill-Easter Seals Minnesota offers a 12-week, hands-on training course at no cost to students. It changed Adrian's life.
Adrian didn't have his GED/diploma because he dropped out of school to work and support his newborn son. The GESMN team connected him to YouthBuild to pursue his goals of construction training, steady employment and getting his diploma.
With determination, Adrian juggled his school and work schedules, while also navigation housing instability, childcare and limited transportation. Adrian always showed up to YouthBuild classes with a smile on his face and a willingness to work hard and learn.
Since graduation from YouthBuild, things are looking up for Adrian! He earned his high school diploma, signed a lease for a new apartment to provide stability for his family and purchased a car with the help of a Minnesota Microgrant. Adrian landed a job at a woodworking/construction company and says he's thankful to the Youthbuild team who helped him gain work and independence.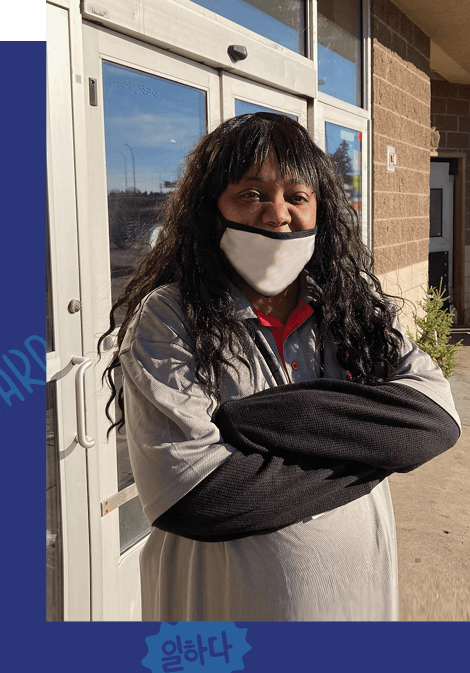 Meet Keana
Keana came to Goodwill-Easter Seals Minnesota through the Families Achieving Success Together (FAST) program.
"Prior to connecting with us, Keana had not worked since 2008. She had the desire to work, but I wanted her to be comfortable with the environment of interviewing and talking to managers," says Nicole Lyons, a GESMN career navigator.
Her personable nature and can-do attitude landed her a job almost immediately at a local bakery, even during a pandemic. Keana told Nicole she wanted to find a position closer to home and she found a job at a laundromat that requires her to take only one bus.
Keana is no longer receiving MFIP assistance, is able to pay her rent and lives on her own. "I hope my kids are excited for me
on this new journey," says Keana. "I want to show them that
I can do this and be on my own. "Don't let anyone tell you
that you can't do something; believe in yourself," Keana says.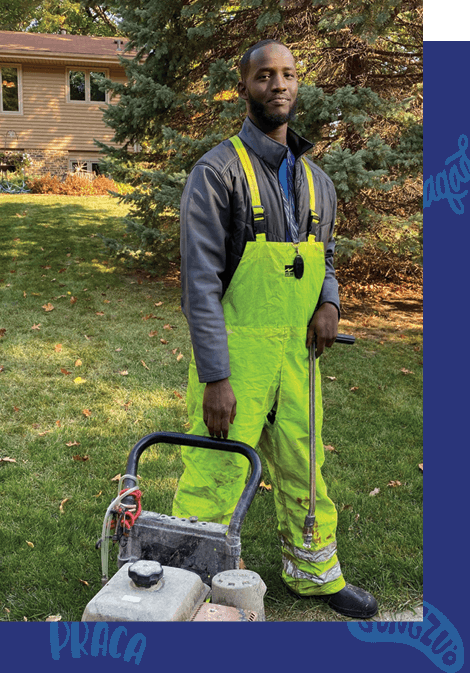 Meet Fahad
"When I was younger, I was uneducated, so I made mistakes," he recalls. "I never put a lot of thought toward the things I did, was making mistake after mistake without realizing it, then it came back to bite me."
Those mistakes caused him to spend time in federal prison.
Fahad was released and started working right away. "Ever since I walked in the door, Goodwill was very open and not judgmental," Fahad says. "I felt comfortable and like I could get my life back on track. There were so many choices I had to make about my future, there were a lot of options and I could have done a lot of stuff - it was a bit of a whirlwind. But Goodwill was there to help."
Fahad landed a job at St. Paul's Roof to Deck Restoration. "They pay well, like $20 an hour, and I've never had a job that paid this well before," Fahad said. On top of his new job, Fahad used his skills to do independent contracting work and eventually registered his business as an LLC. With career support and people who believed in him, he is forging a successful new career path and on track to purchase his first home.
"My goal is to be comfortable and I want everyone in my family to be comfortable too," he says. "I've been through a lot in my life and I'm starting to get immune to thinking negatively. It's an awkward situation to tell someone that you've been in federal prison, but I don't feel like I have a record or that it's holding me back."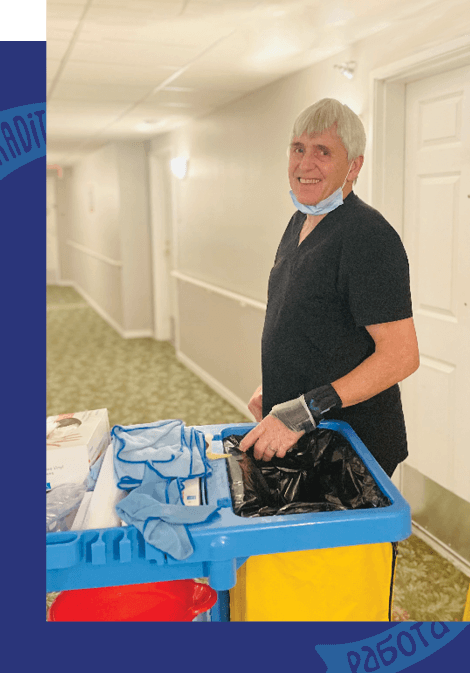 Meet Bryan
After 25 years of working for the same employer, Bryan found himself furloughed due to COVID-19. Brian had a stroke thirty years ago that left his right arm unusable, made walking difficult and communicating a challenge. He could have easily been discouraged, but that is not in his nature.
"After one meeting with Bryan, it was clear he had the drive to work. Bryan already had the tools he needed to be successful; he just needed someone to point him in the right direction," said Bobbi, Bryan's career navigator.
He did not want to return to his job as a launderer because after 25 years the heavy lifting was straining his left arm. He also needed a role that relied more on verbal instruction, with minimal reading.
Bryan told Bobbi he had a passion for working with seniors. After three short months of searching, Bryan accepted a dream position at an assisted living facility. He quickly became a favorite employee with staff and residents alike. He is garnering praise from his supervisor for his stellar work ethic and dependability.
Bryan switched gears with great success and when asked how he feels about his new role, his infectious smile and thumbs-up speak volumes.